How to Price a Subscription Box
Apr 15, 2023
Learn how to price your subscription box to be competitive and stay profitable.
* This post contains affiliate/referral links. I could make a commission at no charge to you if you purchase my recommended products. Please read my disclosure and privacy policy HERE.
---
Choosing a price for your subscription box is hard. In fact, it can be downright agonizing. You calculate and recalculate, going back and forth between numbers, trying to decide where to land.
You don't want to charge too much - you worry your audience won't subscribe if you do. But, you can't charge too little - after all, your subscription box is a business and a business can't survive without making a profit.
Some beginning subscription box owners treat deciding on a price like an arbitrary guess, no better than throwing a dart at a wall. This is NOT the right approach.
There is science - and a lot of math - to choosing the right price for your subscription box. There is also a bit of creativity and artistry involved.
There are a few key elements you need to think about when you are deciding your price. Let's break them down.
Cost of Goods
The products you put in your subscription box make up the largest portion of your overall cost. Before you can determine how much you'll spend on the items in your subscription box, you need to plan what those items will be.
Start by taking my
FREE 6 in 60 Workshop
. In this workshop, you'll follow the same process I use to plan my subscription boxes. In only 60 minutes, you'll curate 6 months' worth of boxes!
It's important to set a realistic budget for product costs and to stick to it… every month. It can be SO tempting to add "just one more thing" because you know your subscribers will love it and you want them to love it. But adding "one more thing" eats into your profit margin. And you need to protect that profit margin in order to survive as a business and continue serving your subscribers.
Keep in mind, as your subscriber numbers grow, so will your buying power. I can get a much better per-piece price when I am buying 200 or 500 or 800 of an item than if I'm buying 25.
Check out this blog post for much more on sourcing products and buying power.
Packaging Costs
Packaging costs are easy to overlook when thinking about the right price for your subscription box. But packaging costs add up… fast.
Boxes, labels, stickers, filler, tape, inserts - it all adds up. And it all has to be accounted for in your price.
Packaging matters. It's all part of curating an overall experience for your subscriber. That doesn't mean spending a lot of money on packaging or paying for custom-designed boxes when you're just getting started.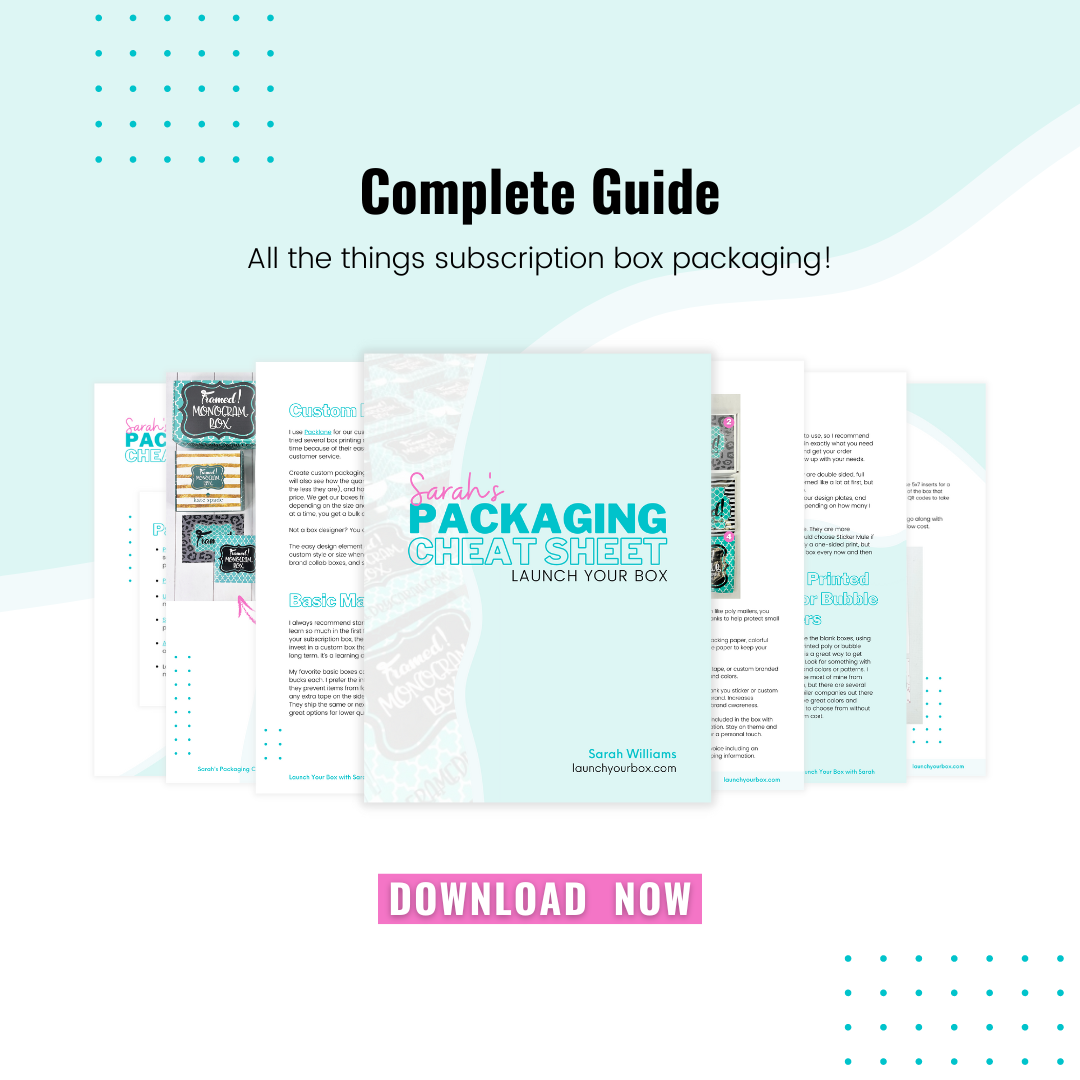 There are a lot of creative ways you can take basic packaging and customize it to match your brand and the experience you want to create. Check out this blog post for ideas.
Make sure to grab my
FREE Packaging Cheat Sheet
to learn everything you need to know about subscription box packaging!
Sales Tax
Subscription box owners can account for the cost of sales tax in two different ways. You can add it to the total cost of your box or add it to the purchase price each month as a separate cost to the subscriber.
Whichever you choose, it is important to know exactly what that sales tax amount is. Sales tax varies from state to state.
Check with your accountant or the Small Business Association in your state to make sure you are charging the correct amount.
Shipping Costs
Shipping costs have continued to rise which makes the question of whether or not to include them in the price of your box more important than ever.
When it comes to shipping costs, you have a choice. You can include it in the price of your box or add a flat shipping rate on top of the price of the box.
Whichever you choose, it's important to know how much shipping costs can vary depending on the carrier you use, how you ship the boxes, and the final destination.
In order to get a good idea of your average shipping cost, plug in a variety of addresses you ship to. It's important to get an idea of the range of shipping costs you'll pay before setting either the price of your box including shipping or setting your shipping flat rate amount.
Fulfillment Costs
Another cost you might overlook when setting the price of your subscription box is the cost of actually filling the boxes.
Whether you fulfill the boxes yourself, hire a person or team to help you, or outsource fulfillment, you must figure this cost out and include it in your costs.
Many times, as solo entrepreneurs, we don't include the costs of our own work.
Remember, at some point as your subscription box business grows, you will need to hire help.
Make sure you've captured this cost from the beginning.
Industry Average
Research other subscription boxes in your niche. How much are they charging? What are your ideal customers paying for similar boxes?
Look closely at the cost of subscription boxes in your industry or niche.
You don't want to be the lowest-priced box out there, but you don't want to be the highest-priced box either.
Realize that you will not be able to compete on cost with some of the big subscription box companies. They simply have too much buying power and are able to absorb costs in other areas. Instead, focus on curating an outstanding experience for your subscribers. Give them what no one else can give them - you!
For more about competing with big box subscription companies, check out this blog post.
Profit Margin
Your subscription box is a business, not a hobby. You are not doing this for free. A subscription box business is hard work and you are building a business that needs to support you and support its growth.
A healthy profit margin is necessary for a business to survive and thrive.
I don't ever recommend pricing your subscription box where you would have less than 30% profit margin. In fact, the goal is to get you to 50-70% profit margin over time.
Your profit margin will increase as you grow, but that doesn't mean you should start off low. Make smart buying decisions, know and understand ALL of your costs, and stay focused.
This blog post talks more about how to make your subscription box business profitable.
I see so many new subscription box owners price their boxes too low. Yes, you can eventually raise your prices, but it's so much better to start a little higher than to start out too low. Remember, your goal is to create a sustainable business, one that can serve you
and
your subscribers for many years to come.
Learn from me:
Subscription Box Blueprint eBook: This $10 ebook covers logistics from product selection to packaging to shipping. Plus a 90-day launch plan and bonus 'Instant Scripts' for your social media.
Launch Your Box:

My complete training program that walks you step by step through how to start, launch, and grow your subscription box business.
Launch Your Box Podcast:

I share tons of practical tips and strategies to help you start, launch, and grow your subscription box business. You'll also hear from industry experts and current Launch Your Box members who are crushing it - get ready to get inspired!
Find me on social:
Are you ready for Launch Your Box? Our complete training program walks you step by step through how to start, launch, and grow your subscription box business. Join today!
Join Launch Your Box
Hear from Sarah each week!
Do you want weekly tips for starting, launching, and growing a subscription box? Subscribe to get our latest content by email.