Creating a Connection with Customers Online
Aug 25, 2023
Discover three ways you can create genuine connections with your customers which lead to more sales.
---
Small business owners have a super power that no big box company or major brand has. The power to create real, meaningful connections with our customers.
When I had a small brick and mortar store, making connections was easy. I had a lot of regular customers, people who came in at least once a month to buy something fun for themselves or as a gift.
I would chat with them while they were in the store, ask about their families, tell them funny mishaps from my day... and they became so much more than customers, they became friends. In fact, those loyal customers were the inspiration for my subscription box. I wanted to create a special experience just for them.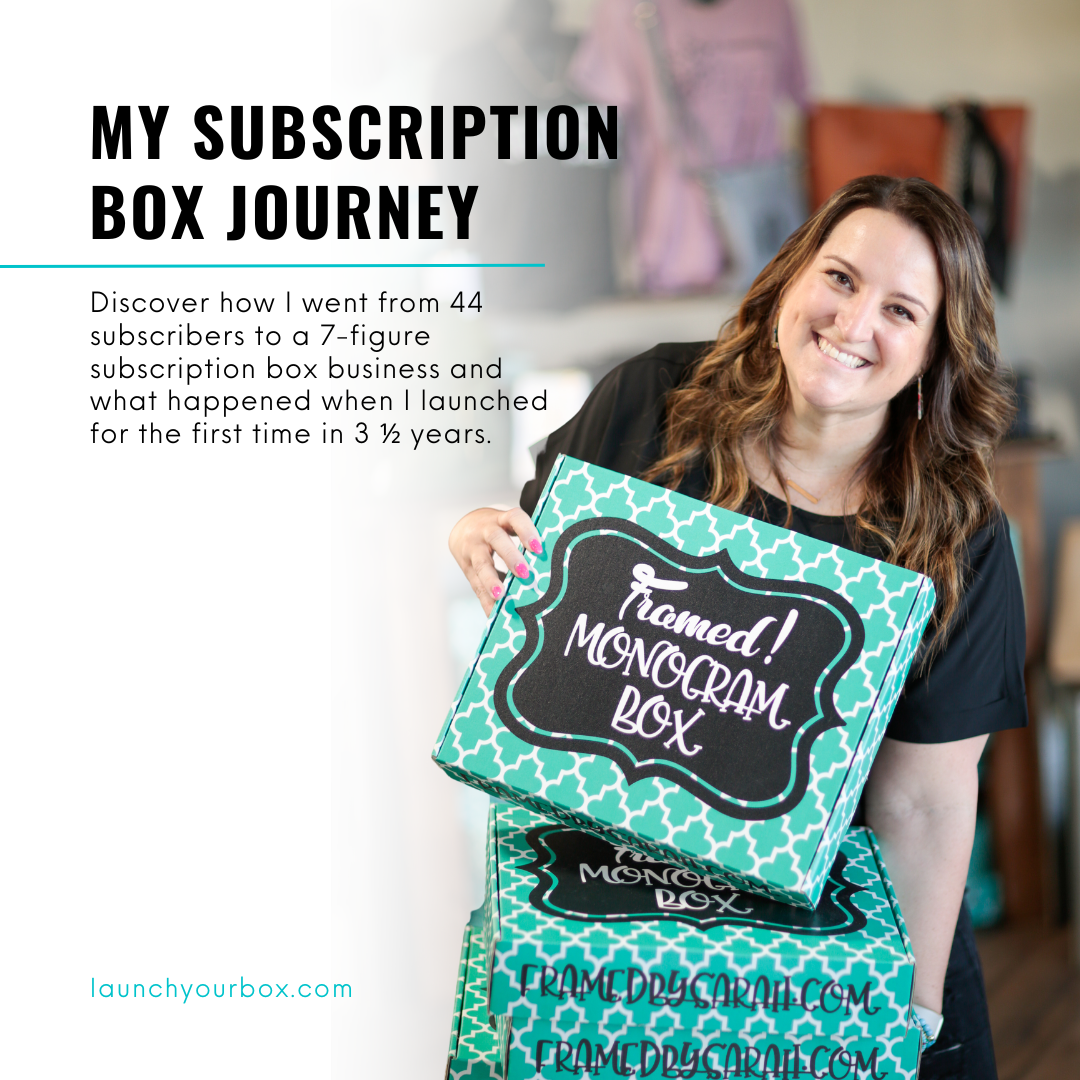 As my business - and my subscription - continued to grow, I knew I needed to expand my reach beyond my local area. After all, there were only so many women I could sell the same t-shirt or tote bag to in my town.
I knew connection was the key to my success - it was my secret sauce. But how could I connect with people online the same way I connected with them in real life?
Every online business owner, and certainly every subscription box owner, faces this challenge. You know how important it is to make sincere, authentic connections. You know they are key to a successful, thriving eCommerce business.
So how can you make personal connections with your online audience? Let's talk about it!
Building Personal Connections with Your Online Customers
When I was struggling to build connections and grow my online audience, the solution was simple. Facebook Lives. Everybody was telling me, "You have to do Lives!"
The only problem? I didn't want to! You see, I am an introvert through and through. I like working by myself and being alone. When things get too peopley, I shut down. Then there were my self-esteem issues. I wasn't young and pretty, thin and tan. I couldn't believe anyone would want to watch me on Facebook.
I knew I had to do it. And eventually, I did. At first, I hated it. A lot. It would take me a long time to gather up the courage to push that button and go LIVE.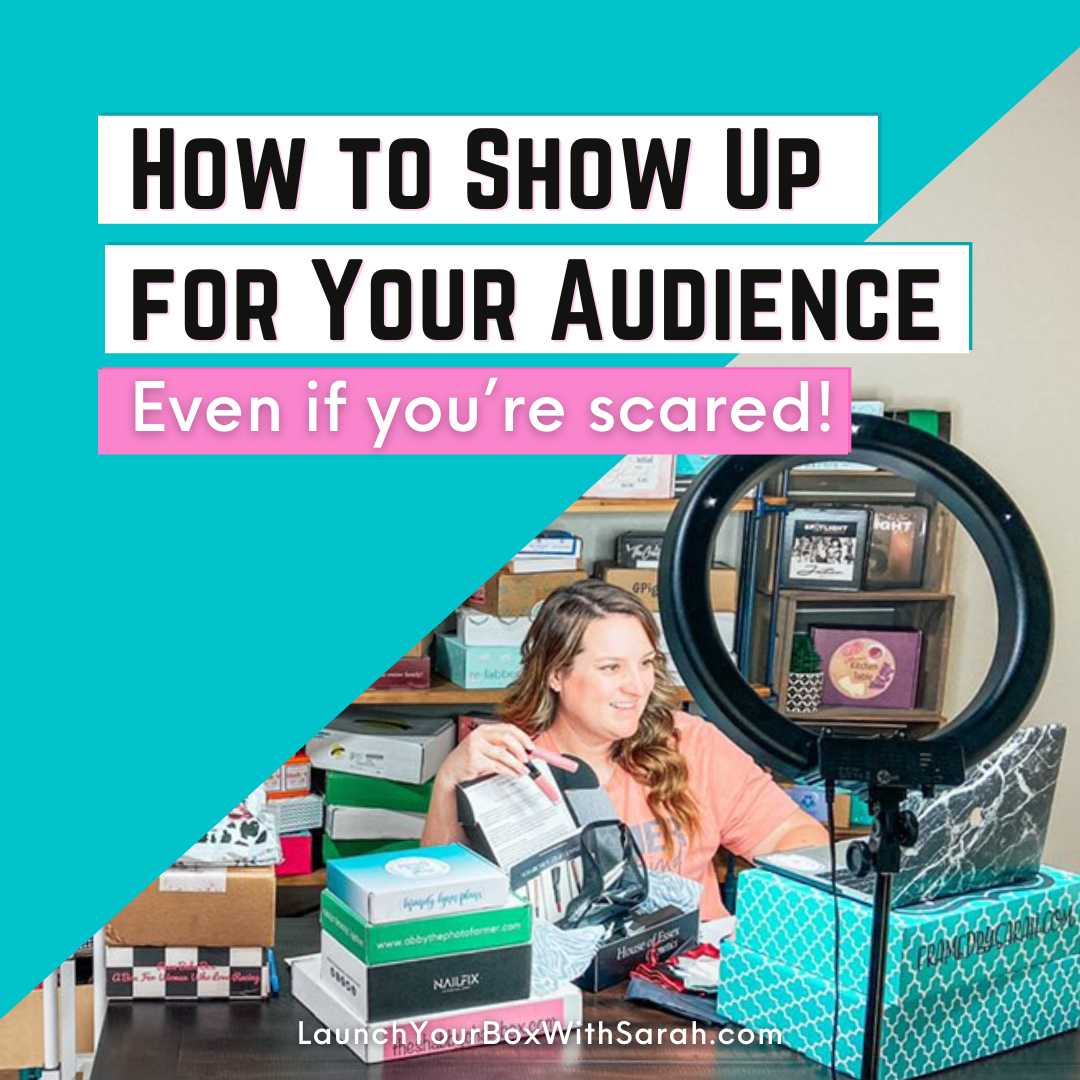 So many members of Launch Your Box struggle with going LIVE. They have the same fears and hang ups I did. But I encourage them - and sometimes push them - to do it, too. Because I've seen what a HUGE difference it made and still makes in my business. And I've seen what a HUGE difference it makes once they get over themselves, get comfortable if not confident, and go LIVE.
Check out this blog post for more on how to show up for your audience, even if you're scared.
Your Followers Want to See and Get to Know You
I committed to doing ONE Facebook LIVE a week. ONE. Every Friday I would show up and talk about some of my favorite items in my shop. I let my audience know I was going to be LIVE on Friday mornings. They were expecting me, so I couldn't talk myself out of showing up.
The more I went LIVE, the more people watched. They commented and I engaged with them. Suddenly I was building connections in the online space much like I'd been building them in my store for years.
Before long, I saw more sales and gained more followers. Within a few months, my sales were way up, and I had doubled my following. And I added 350 new box subscribers in that short amount of time!
As much as I hadn't wanted to, I was becoming the influencer of my own business. I wasn't all those things I thought I needed to be. Instead, I was real. Like so many of the people I was talking to, I'm a busy mom who is sometimes a hot mess just trying to get through my day. That's why they related to me.
My audience didn't want some polished person showing up, making them feel less than. They wanted to connect with someone like them. I would show up, tell a funny story, show them my favorite things around the shop, tell them my shirt size... which I was also scared to do. I didn't want them to know I wore an XL... but you know what?! 70% of my customers wear a size L-XXL. I was relatable.
It's so important that you show up LIVE. You don't have to be the best at anything. You just need to be you. Craft with them, bake with them, share your process with them, take them behind the scenes. Just be consistent and share the most important part of your business with them… you!
Create Connections through Email Marketing
Once I saw the impact going LIVE had on my ability to connect with online customers, I looked for other ways to connect. The natural next step was email. I decided to get consistent and start emailing once a week. It worked for my Facebook LIVES, surely it could work for email too.
Just like I'd trained my audience to expect to see me LIVE every week, they soon knew when to expect me to pop into their inboxes each week. I used the same content from that Facebook LIVE and repurposed it into an email.
I saw sales from email go from 0 to 30% of my total sales very quickly. Klaviyo is the email marketing platform I use because it makes it super simple to craft templates and flows.
Wondering what to email your list each week? Especially if you haven't launched or aren't yet selling products. Episode 108 of the Launch Your Box podcast walks you through 5 different emails you can send every month.
Go the Extra Mile with SMS Marketing
By 2020, I had been doing weekly Facebook LIVEs for a year and sending weekly emails for six months. The world was craving connections more than ever before.
SMS Marketing was becoming popular, but I wasn't a big fan of getting marketing blasts on my phone. I didn't want to be that company that annoyed people.
One of my mentors was using a new texting application. It was a two-way text app that allowed people to text you right back. I was nervous at first. How was I going to handle texting hundreds of people back at a time?
After jumping in, I found it was super simple and fun. Before long, I was building connections in a whole new way. It felt like I was texting friends. It started with conversations with VIP perks to my business. They love it, and it's one extra piece that big businesses don't have.
Now my audience opts in to receive texts when I'm going LIVE and my most loyal customers get texts with special offers. They love it and so do I. I'm able to build genuine connections and generate sales!
When it comes to building connections, consistency is key. I didn't try to do all these things at once. I mastered one of them and then kept layering in the next one, about six months apart. It's the same with any part of your business. Start with ONE thing, then layer in the next step.
Never underestimate the power of influence you have on your business. Be you, be real, and just be present!
Learn from me:
Subscription Box Blueprint eBook: This $10 ebook covers logistics from product selection to packaging to shipping. Plus a 90-day launch plan and bonus 'Instant Scripts' for your social media.
Launch Your Box:

 

My complete training program that walks you step by step through how to start, launch, and grow your subscription box business.
Launch Your Box Podcast:

 

I share tons of practical tips and strategies to help you start, launch, and grow your subscription box business. You'll also hear from industry experts and current Launch Your Box members who are crushing it - get ready to get inspired!
Find me on social:
Are you ready for Launch Your Box? Our complete training program walks you step by step through how to start, launch, and grow your subscription box business. Join today!
Join Launch Your Box
Hear from Sarah each week!
Do you want weekly tips for starting, launching, and growing a subscription box? Subscribe to get our latest content by email.