Subscription Box Packaging Basics
Jul 31, 2022
Take the stress and overwhelm out of packaging decisions for your subscription box.
Plus, find fresh inspiration for your subscription box packaging from some of our Launch Your Box member images shared throughout this article.
* This post contains affiliate/referral links. I could make a commission at no charge to you if you purchase my recommended products. Please read my disclosure and privacy policy HERE.
---
Packaging is one of my favorite parts of my subscription box. I mean, have you seen my turquoise boxes?! Swoon! (LOL) I love what's inside those boxes every month and spend a lot of time curating an amazing experience for my subscribers. But… there's a lot to get excited about when it comes to packaging, too.
Think about it. Your box is the first thing subscribers see each month. They open their front doors or arrive home from a long day of work or driving kids all over town and there it is, your box, waiting for them.
The nature of a subscription box business means you can't deliver your box to each subscriber every month. Your box acts as "the face" of your business. It's the beginning of your subscriber's experience each month. It's worth taking the time and effort to make it special.
The JoyFilled Subscription Box
Your box's work doesn't start when it lands on your subscriber's porch. Think of it as a billboard for your subscription box as it travels across the country. Make it part of your marketing efforts by creating an attention-getting package and making it easy for anyone who sees it to find out more about your subscription box.
There are so many things to think about when you're starting a subscription box. Packaging can be one of the most fun - and most stressful - to figure out.
It doesn't have to be.
The Active Life Subscription Box
Deciding on the packaging for your subscription box should be fun. And it doesn't have to be overwhelming. As you know, I'm all about taking the overwhelm out of starting and launching a subscription box.
Listen to episode 6 of the Launch Your Box podcast for my thoughts on all things packaging.
Today I want to talk to you about some subscription box packaging basics you need to know.
Basic vs Custom Packaging
One of the first packaging decisions you'll be faced with is whether to dress up a basic box or go all in with a custom box.
My advice is to go basic first for a lot of reasons.
First, so you can figure out what size box you need. It's going to take you a few months to get your sizing figured out. You don't want to invest in hundreds or thousands of custom boxes and then discover they don't fit your needs.
You want to be profitable - and stay profitable - from the very beginning. Yes, you can be profitable in month one. Don't sink all your funds into fancy boxes. I suggest setting a subscriber goal before investing in custom packaging.
The Floral Project Flower Club
Basic doesn't mean boring! I started all my subscriptions with basic packaging. Using plain boxes instead of custom designs saves you a ton of money, especially when you have smaller numbers of subscribers and can't order large amounts.
Pilot Wives Club Subscription Box
You can dress your box up and make it eye-catching and on-brand without spending a lot of money. Check out this blog for more on how to make basic packaging come alive with a few simple additions. You'll be amazed by the custom-like packaging you can achieve with stickers, stamps, and tape!
What do you need to package your subscription box?
We're all about getting rid of the overwhelm, right? Let's keep things simple by talking about three things you need to consider when making packaging decisions for your subscription box.
1. Boxes or bags?
I've already suggested you start out with a basic box. Again, the focus is on being profitable right from the start.
You'll need to decide what size basic box you need. You'll want your box to allow for enough room for your items but still appear "full." In this blog post, I go into detail about how to figure out what size box to order.
What if your subscription box didn't come in a box?
My t-shirt subscription comes in a custom poly mailer. I call it the T-Shirt Club because it's technically not a subscription box.
Wondering why you'd choose a poly mailer over a box? Simple. You can save a TON of money. If I pack my t-shirts in a box, they weigh more than a pound. In a poly mailer, they're less than a pound. It doesn't sound like much, but that slight difference in weight makes a HUGE difference in shipping costs. And I'm still providing my subscribers with an on-brand, instantly recognizable package that arrives on their doorstep each month.
2. Filler
We talked about the importance of making your box feel "full." But what if the items you chose so carefully don't fill your box completely? Or what if an item is fragile and needs to be protected during shipping?
The Skincare Farm Box
You'll need to use some type of filler. Choose from:
Air pillows

Shreds

Tissue paper

Packing peanuts
Each has its benefits and its drawbacks. My dislike for shreds is a running joke inside Launch Your Box. I know they are great for filling empty space inside a box and they can be customized to add a branded feel to the overall experience, but they make a mess. Air pockets and packing peanuts don't give me that upscale feeling I want to create.
The Woo Woo Box
I do love how some Launch Your Box members use tissue paper in their subscription boxes. Tissue paper keeps your items together so they don't shift during shipping. You can even design custom tissue or simply choose tissue paper in your brand colors for a cohesive look.
3. Inserts
Adding inserts to your subscription box is more than just information. They increase a customer's experience and their perceived value of the box. Check out this blog for more insert ideas.
Use your insert to guide your subscriber through the box, offering explanations or instructions if needed. This is a great opportunity to share your inspiration for the box or reasons why you chose particular items for your subscribers.
Aud & El Subscription Box
Don't forget to include calls to action. Ask your subscribers to take pictures of themselves wearing or using items in the box, share them on social media, and tag you.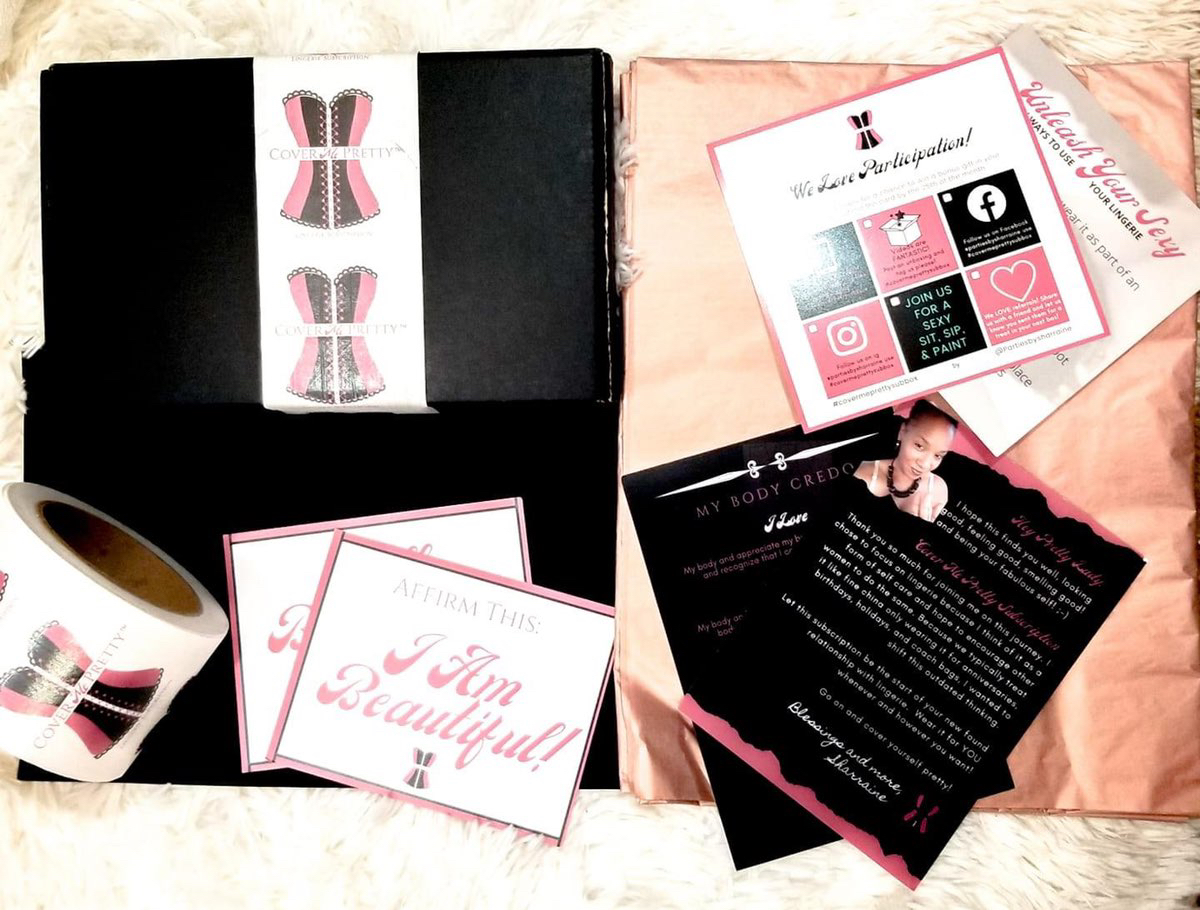 Cover Me Pretty Subscription Box
Consider adding a personalized note from time to time, simply thanking subscribers for being part of your community.
Ready to learn even more about subscription box packaging? Grab my FREE packaging cheat sheet HERE.
When it comes to choosing packaging for your subscription box, have fun with it! Remember to use what you can afford, up-leveling your packaging as you grow. Once you are ready for custom packaging, save costs by ordering in bulk. And never forget, your subscription box is a traveling billboard for your business. Make every element count!
Learn from me:
Subscription Box Blueprint eBook: This $10 ebook covers logistics from product selection to packaging to shipping. Plus a 90-day launch plan and bonus 'Instant Scripts' for your social media.
Launch Your Box:

My complete training program that walks you step by step through how to start, launch, and grow your subscription box business.
Launch Your Box Podcast:

I share tons of practical tips and strategies to help you start, launch, and grow your subscription box business. You'll also hear from industry experts and current Launch Your Box members who are crushing it - get ready to get inspired!
Find me on social:
Are you ready for Launch Your Box? Our complete training program walks you step by step through how to start, launch, and grow your subscription box business. Join today!
Join Launch Your Box
Hear from Sarah each week!
Do you want weekly tips for starting, launching, and growing a subscription box? Subscribe to get our latest content by email.