Elements of a Great Unboxing Video
Mar 12, 2023
Learn how to engage subscribers and create FOMO among non-subscribers with a great unboxing video.
* This post contains affiliate/referral links. I could make a commission at no charge to you if you purchase my recommended products. Please read my disclosure and privacy policy HERE.
---
Our subscription box audiences love unboxing videos! They're a way for your followers - subscribers and not-yet-subscribers - to connect with you and your product.
Every month, I do a LIVE unboxing of my Monogram Box™. This is my time to share my inspiration for and excitement about the box with my subscribers. I show off each item in the box, talking about its features and benefits and gushing about how much they're going to love using it.
For subscribers, it's a chance to feel part of my community. To get even more excited about the experience I curated for them that month. And for non-subscribers? Hello, FOMO! LIVE unboxings are a great way to show people who aren't yet subscribers just what they're missing out on.
Make a LIVE unboxing video part of your marketing strategy every month.
Unboxing videos can be pre-recorded and uploaded to platforms like YouTube, Instagram, or even TikTok. You can also do them LIVE on your favorite social media platform.
Most of my subscription box audience is on Facebook, so that's where I do my unboxings. I like to do mine LIVE - there's something special about connecting with my audience in the moment. I love reading their comments and feeding off their excitement.
Some of the tips I'm sharing with you are for LIVE audiences. No matter what format you choose, there are a few key elements that need to be in any unboxing video.
Before You Go Live
I know the thought of going LIVE makes many of you nervous. We talk about this a lot inside Launch Your Box. I discuss things you can do to feel more comfortable in this blog post. Start by having a plan and being prepared.
Set a Date
Choose a date for your box reveal, put it on your calendar, and let your followers know. The more people who show up to watch live, the better the experience will be for everyone.
Setting a date gives you time to build excitement. Every time you share a sneak peek or behind the scenes view into your box, share the LIVE unboxing date. Let that anticipation build!
Set the Stage
Put time and effort into staging an inviting background. This could be your subscription boxes stacked behind you or items that relate to your subscription. Make it fun! You don't want to have a blank wall behind you sitting in a dark dingy room.
The right lighting makes such a difference! Make sure you have good lighting and good placement for your camera. You don't need any special equipment. I just use my cell phone or iPad and my favorite ring light or these tabletop lights I have in my home office.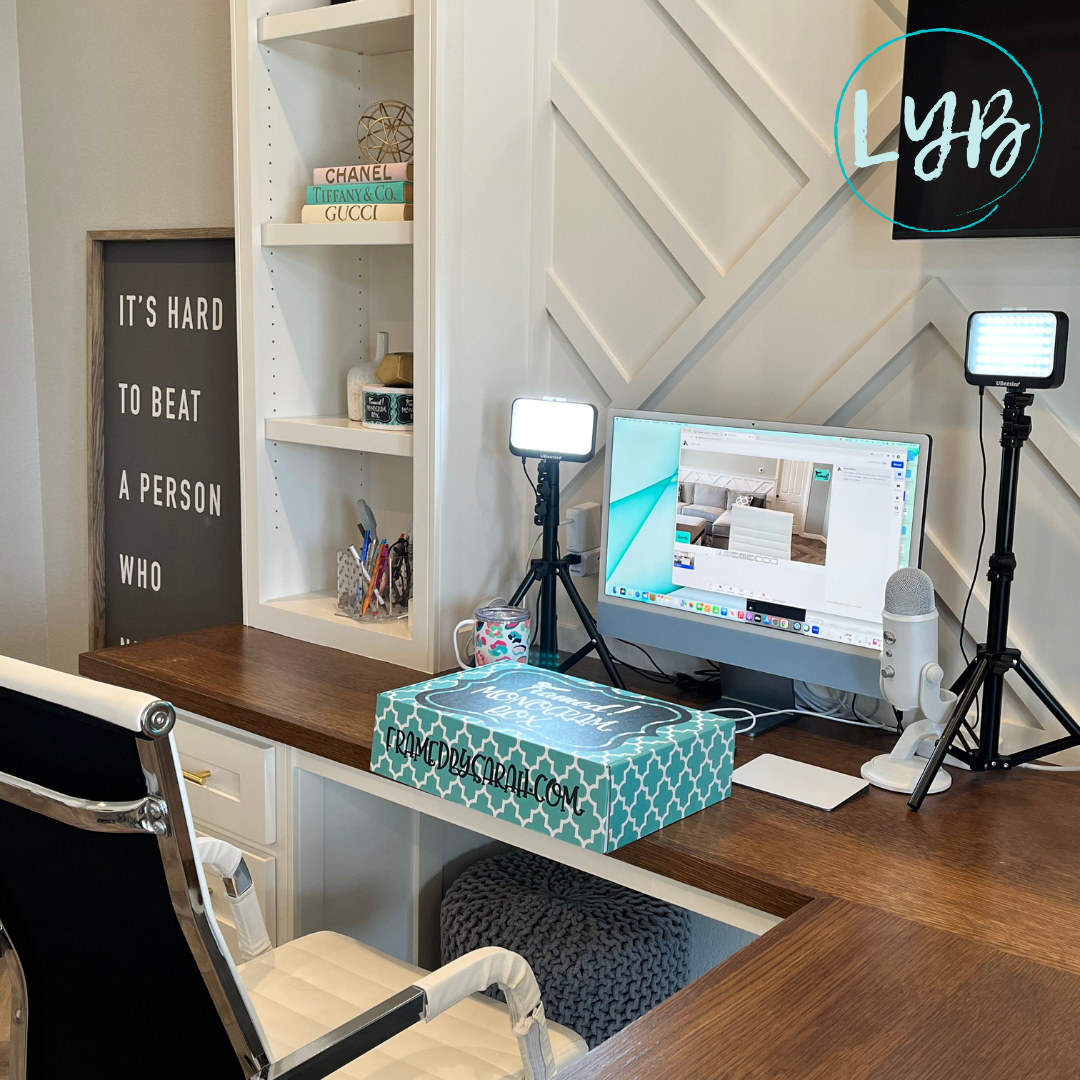 I like to wear items that coordinate with the box. If there is an item of clothing inside your subscription, wear it! Let them see how much you love it and how great it looks on you.
Find All My Favorite Unboxing Tools and Subscription Box Supplies In My Amazon Shop!
6 Steps to a Great Unboxing
1. Encourage Engagement Early
Once you press that button to record, come on with a lot of energy. Your energy and excitement will energize and excite everyone watching. Introduce yourself and welcome everyone who is there with you.
Encourage those watching to engage in the chat section. Ask questions to jumpstart the conversation right when you get started.
Are you a subscriber?

Have you received this month's subscription box?

What is your favorite item in this box?
2. State Your Hook
During the first 15 seconds of your LIVE, state the hook of your video. The hook needs to pertain to your subscription and what you'll be talking about. Viewers decide within those first 15 seconds whether to stay or to continue scrolling. The goal of your hook is to keep them on with you.
"I am so excited you are here! Tonight, we'll unbox the March Monogram Box™ and see all the amazing items inside it for the first time."
3. Tell the Story of the Box
Tell a story about your subscription box. What was your inspiration? How did you put it together? Give some insight behind the scenes of curating the box. Followers love to hear the stories behind where you sourced those eclectic pieces or how you designed the custom-made items.
Take what makes your box unique and start telling that backstory before you open your box. This will give your audience the chance to find your LIVE and start watching.
It also adds more interest to your box. Don't just whip open your subscription box and say, "look at this" and then be done.
Sharing the story of the box and each item inside it gives your audience the experience we want them to feel when they receive their boxes each month.
4. Engage Your Audience - Especially Subscribers!
Before you start opening the box, and throughout the LIVE, check your comments and engage with your followers. Answer and ask questions, participate with the audience by greeting them when they come in, and talk with people in the chat.
Be excited to see your subscribers watching you. Get your subscribers to participate in the conversation so that non-subscribers can see that they are missing out on something before you even start opening the box.
Right before I start opening my subscription box, I explain the different levels of my subscriptions and tell subscribers how they can upgrade.
I always unbox my highest level subscription, so even if my subscribers don't get that box, they will see and want everything. Again, generate FOMO.
5. Showing off All the Things
Now the real fun begins! I usually start with the smaller items in my box and build up to the larger or more valuable items. I tell a little story about each piece and share how they coordinate and can be used.
For instance, if you have clothing or jewelry, share a few styling tips or outfit ideas.
Take your time on each item. Subscribers love to know the where, why, and how. Keep your audience engaged by asking things like which item or styling option is their favorite.
6. Call to Action
Always include a call to action! Send them to a sales page, waitlist, or opt-in. See this blog post for free email opt-in ideas.
Sometimes I offer a free download during my Facebook LIVE. Often I include a printed quote inside my box, and I can take that, or the theme of the box and make a cute 8x10 downloadable print or cellphone wallpaper.
When you are done displaying the full experience during the subscription box reveal, thank everyone for watching you live and invite them back.
After the Unboxing
Your time on camera may be over, but the work isn't done! You want to reach ALL of your audience.
Send a simple, short email to your entire list enticing them to click over to catch your new video content on replay. Include a few pictures and link the video to continue getting more views.
This email follows the same format as the video. The hook is your subject line. Share a quick story in the first paragraph. Tell them what items came in the box, what they mean, and how they go together. It's a great idea to share how to use these items in an email for all subscribers to go back to read. Then, use the same call to action from the video.
You've spent a lot of time on the branding of your box, finding or making the perfect products, and curating an exceptional experience for your subscription box subscribers. Now is your time to show off with a great reveal!
Learn from me:
Subscription Box Blueprint eBook: This $10 ebook covers logistics from product selection to packaging to shipping. Plus a 90-day launch plan and bonus 'Instant Scripts' for your social media.
Launch Your Box:

My complete training program that walks you step by step through how to start, launch, and grow your subscription box business.
Launch Your Box Podcast:

I share tons of practical tips and strategies to help you start, launch, and grow your subscription box business. You'll also hear from industry experts and current Launch Your Box members who are crushing it - get ready to get inspired!
Find me on social:
Are you ready for Launch Your Box? Our complete training program walks you step by step through how to start, launch, and grow your subscription box business. Join today!
Join Launch Your Box
Hear from Sarah each week!
Do you want weekly tips for starting, launching, and growing a subscription box? Subscribe to get our latest content by email.