How Your Professional Experience Can Shape Your Subscription Box Business
Oct 15, 2023
Learn how to put your work and life experience to work for you as you start and launch a subscription box business.
---
When you're just getting started on your subscription box journey, it can be hard to imagine yourself successfully managing a thriving subscription box business. After all, you're still trying to figure out how to start a subscription box business. The distance between where you are and where you want to go can seem overwhelming.
Instead of looking from where you are to someone who has already reached your "big" goal, stop and look just a few steps ahead. Look for someone who has figured out a few things more than you have, who has done the work to move a little further in their subscription box journey.
This is one of the best things about being part of a community like Launch Your Box. The subscription box owners inside the membership are at all points in their subscription box journeys. There are many members who are getting solid on who their ideal customer is and starting to build an audience. Others are doing all the things, following the trainings and getting ready to launch their subscription boxes. And still others have launched and are growing their businesses.
All of these members are there for each other. Supporting, encouraging, and helping each other. And I love it when I see someone who is that little bit further ahead on their journey inspiring others inside the group.
That happened earlier this year when Kathy Strahs inspired ALL of us with her subscription box launch. Kathy had no subscription box experience, but she had a lot of work and life experience and she quickly realized just how valuable that was.
I know Kathy's story will inspire you the same way it has inspired the Launch Your Box community.
Everything prepares us for something later.
Even though Kathy only started her subscription box business earlier this year, you could say her subscription box journey started back in high school.
It was then that teenage Kathy and her best friend got jobs working at their local Hallmark shop. Kathy learned how to work with customers, providing good customer service and anticipating their needs. She also learned how to present merchandise in a way that appealed to customers, making them more likely to buy.
Kathy went to college and then to business school. Born and raised in Silicon Valley, she had a front-row seat to the tech boom and bust. Unfortunately, the timing of her business school graduation lined up with the bust. So, Kathy moved to southern California with her husband and found a job there. It was not her dream job.
Kathy wisely realized that a career path is not a straight line. There are forks in the road - and those forks can provide valuable learnings and experiences.
One of Kathy's jobs included responsibility for internet ad research analysis. In another position - this time with TurboTax - she learned a great deal about affiliate marketing.
Customer service, product curation, internet advertising, affiliate marketing… Kathy continued to gain skills and experiences she would need as a subscription box owner.
Stepping out of corporate and into the kitchen.
When Kathy became a mom 15 years ago, she stepped away from the corporate world. She knew she wanted to be home with her baby, but also needed a creative outlet.
The answer came in the form of a panini maker!
That Christmas, one of the items on Oprah's Favorite Things list was a panini maker. Kathy's sister had gotten her one and she loved using it. Kathy was smart enough to realize that all these women who would be getting panini makers for Christmas would be looking for panini recipes.
So she started a blog. She created regular, valuable content for five years. Kathy learned to use social media platforms to grow her food blog audience.
Kathy wrote a cookbook in 2013 that included her recipes and her photography. She then started her own publishing company and discovered she LOVED the marketing side of the business.
Producing regular content, using social media to grow an audience filled with the right people, marketing products… In this new stage of life, Kathy continued to gain skills that would serve her well as a subscription box owner.
Losing one passion and finding another.
When the pandemic hit, Kathy started to lose her passion. Like so many of us, she felt the need for "more." More connections, more meaning. She felt like a shadow of her former self and knew she wasn't alone.
A friend of Kathy's started planning outings for some of the women in her circle. Time away that allowed these women to come back to their daily lives feeling recharged and "ready."
These times away helped Kathy realize she wanted to work on something focused on moms taking time away. But she wasn't sure what that would look like.
Over time, Kathy became interested in the idea of a subscription box that provided that time away for moms.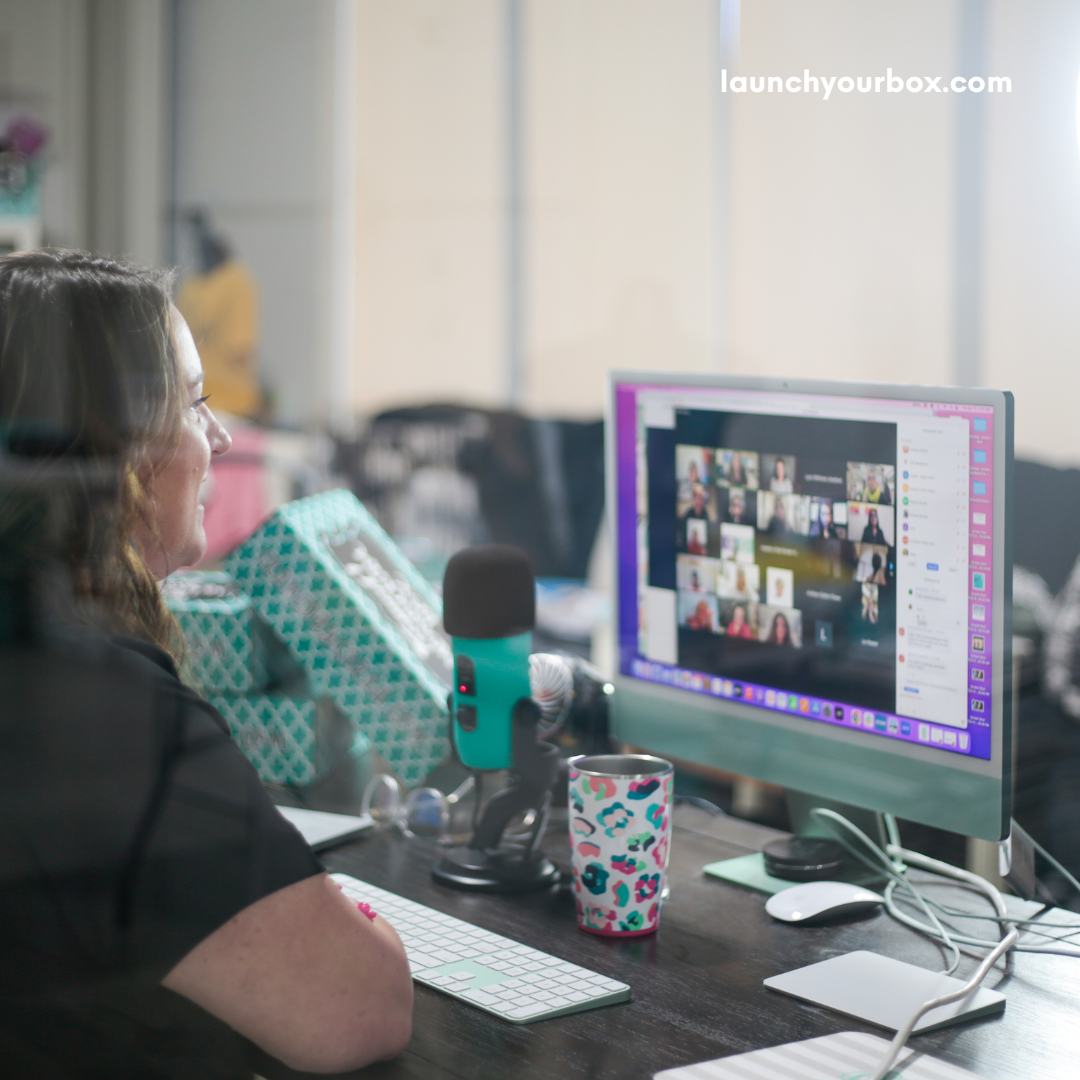 It was right around then that Kathy discovered me and Launch Your Box. She happened to hear a podcast interview I did and knew she'd found the support she needed to turn this interesting idea into a business.
Learning, implementing, and launching a subscription box.
Kathy dug in, learned quickly, and put a plan together to launch her subscription box. She committed to spending 90 days building an audience. Yes, Kathy had built a large following in the past - for her food blog - but those followers were not the same people she needed for her subscription box.
Of course, there were challenges along the way - including the tech. Instead of letting the tech stop her - like it does so many - Kathy took a course and made it work. Conquering that challenge also gave her the confidence to continue moving forward.
When it was time to launch, Kathy wasn't sure what to expect. After setting an initial goal of 20 subscribers, a very successful KingSumo giveaway motivated her to increase her goal to 40 subscribers.
Kathy followed the 5-Day Launch Plan I teach inside Launch Your Box to a tee. Having a plan to follow allowed her to use her energy wisely and well.
The result?
Kathy sold out on the first day of her launch! She reached 46 subscribers on the first day!
I can't wait to watch Kathy continue to grow her subscription box business.
Kathy didn't have subscription box experience but, like all of us, she had work and life experiences. As she started working toward launching her subscription box, Kathy realized just how valuable all that experience was.
Retail experience

- high school job at Hallmark.

Business knowledge and experience

- MBA from Stanford.

Marketing

- work in affiliate and partnership marketing.

Social media and content creation

- experience as a blogger and early adopter of social media platforms.

Publishing

- author of four cookbooks
What experience do you have that you can bring to your subscription box business? Past jobs, educational experiences, life experiences. Look for what you've learned that you can bring to your own subscription box business. And get ready to be surprised by how much you already know!
Learn from me:
Subscription Box Blueprint eBook: This $10 ebook covers logistics from product selection to packaging to shipping. Plus a 90-day launch plan and bonus 'Instant Scripts' for your social media.
Launch Your Box:

 

My complete training program that walks you step by step through how to start, launch, and grow your subscription box business.
Launch Your Box Podcast:

 

I share tons of practical tips and strategies to help you start, launch, and grow your subscription box business. You'll also hear from industry experts and current Launch Your Box members who are crushing it - get ready to get inspired!
Find me on social:
Are you ready for Launch Your Box? Our complete training program walks you step by step through how to start, launch, and grow your subscription box business. Join today!
Join Launch Your Box
Hear from Sarah each week!
Do you want weekly tips for starting, launching, and growing a subscription box? Subscribe to get our latest content by email.