3 Email Automations Every Subscription Box Owner Needs
Mar 19, 2023
Discover the three email automations you need to put in place in your subscription box business to increase your revenue.
---
I'm always looking for ways to simplify things in my business and to bring in more revenue. Setting up email automations does both!
Whether you call them email automations, email funnels, or email flows doesn't matter. What does matter is that setting up these automations and putting them into place in your business makes people feel seen - hello, building connections - and it makes things so much easier for you.
There are so many moving parts inside a subscription box business. Taking the time to automate where you can frees up your time to work on other, bigger-picture things.
In order to set up email automations, you need to have your email CRM set up. Inside Launch Your Box, we are big fans of Klaviyo. It has so many features and capabilities that make it the best CRM for subscription box businesses. It even allows me to track the revenue my email automations generate for my business.
If you've been following me for more than a minute, you know how important it is to email your list regularly. In this blog post, I teach you about five types of emails you can send to your list every month.
The purpose of sending those emails to your entire list is to nurture them as you move them down your sales funnel. And those emails are need to be part of your marketing strategy.
But those are not the types of emails I'm talking about today. Instead, I'm taking you through three email automations that are triggered by very specific actions someone takes. Very specific actions that need to be acknowledged and followed up on by you… through automated email sequences!
Keep It Simple
An email flow doesn't have to be complicated. And it doesn't have to be a long series of emails. The goal is to take action and make progress. That means getting these email automations into place and then going back and tweaking them or adding to them later if you want to.
I recommend starting with just two emails for each of these flows. Again, you may want to go back and add more later. My flows still only contain two emails and they work great! Keep it simple.
1. Waitlist Automation
A waitlist is important before you've launched your subscription box and, if you run a closed subscription model, between launches. You should also have a waitlist in place if your subscription box is sold out.
The purpose of a waitlist is to capture those people who have raised their hands and said, "Yes, I want in!"
When someone joins your waitlist, you don't want to leave them wondering if they're actually on the list and what happens next. That's where the automation comes in.
Set up a simple, two-email automation that is triggered anytime someone joins your waitlist. If you are a member of Launch Your Box, there is training inside the library with screenshots and swipe files!
Email #1
Subject line: "You're on the list!" or something fun to let them know you see them and to verify they successfully joined your waitlist.
In this first email, let the reader know they'll receive an invite to become a subscriber as soon as you launch or have a spot available.
Include an image in this email. It can be:
A behind the scenes picture.

A picture of you holding one of your boxes.

A picture of your mock-up box if you haven't launched yet.
If you already have a subscription box, this email should include an offer to purchase a past box while they wait to become a subscriber. Give a description of the past box and allow them to purchase right from the email.
Keep this email - and all of the automated emails - short and sweet!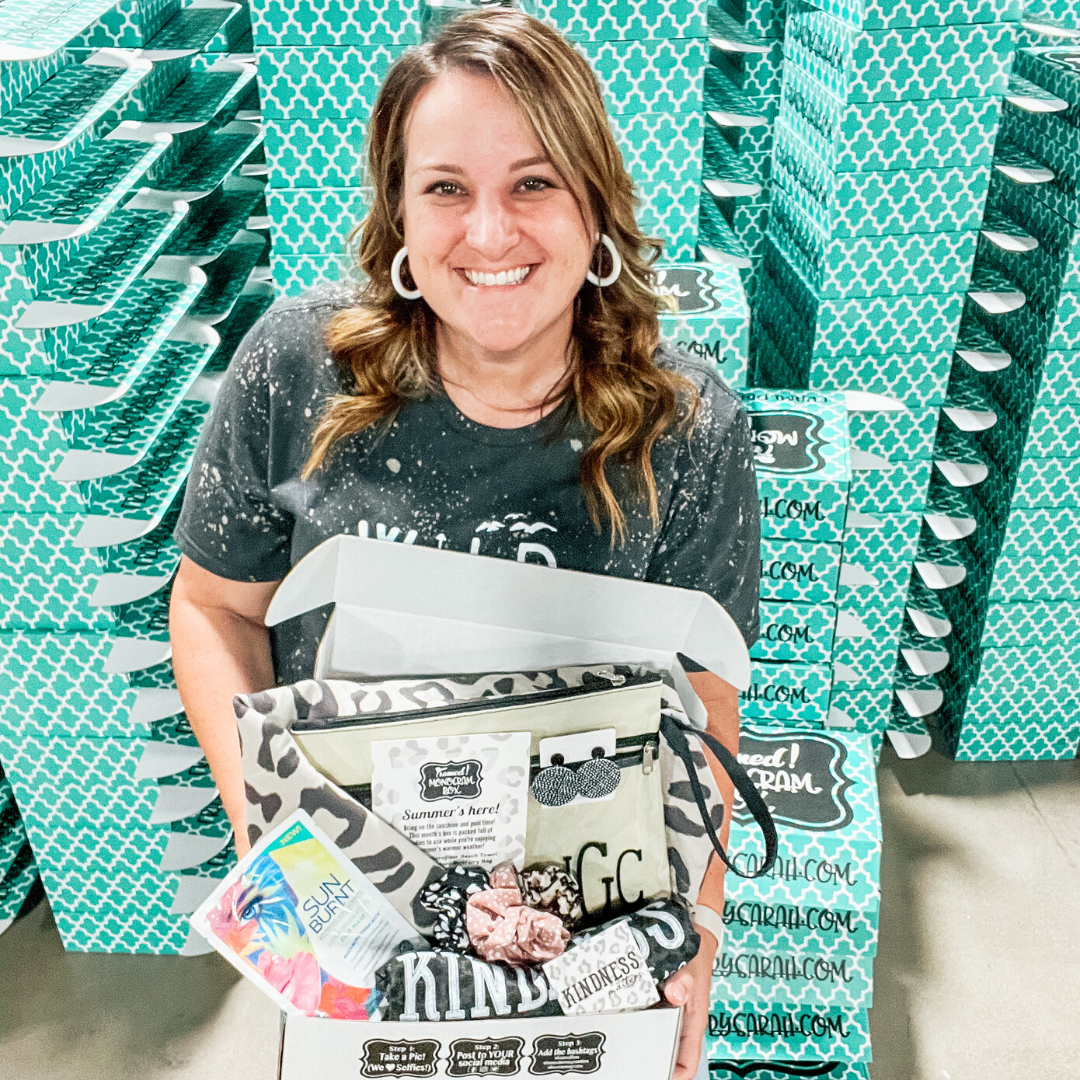 Email #2
If you have past boxes available, remind them of that and offer it to them again. Use a subject line like, "Don't miss out on this box!"
If you haven't launched yet, offer other products from your shop. And if you don't have anything to sell, talk about what's coming. Give hints about the themes of upcoming boxes (no details). You can even use this email as a "Save the Date" to remind them of your launch date.
It's important to use catchy subject lines for these emails. Your subject lines should be hooks instead of titles. And don't forget to use the preview line!
2. New Subscriber Automation
This automation is triggered when someone subscribes to your box! And yes, Launch Your Box members, you can find screen shots and swipe files inside the training library.
Email #1
Use a subject line like, "You're in!" or "Something exciting just happened!" Include an image to create even more excitement.
This first email includes important information you want a new subscriber to know.
When their payment will draft.

When their box will ship.

How the process will work for them.
If you do this email well, you can eliminate a LOT of customer service emails, calls, and DMs. Let new subscribers know what to expect - they'll feel cared about and cared for from the very beginning.
Email #2
A few days after the initial email, send another. The goal of this email is to generate additional revenue.
I do this by trying to upsell new subscribers. I have three different levels of my Monogram Box™ subscription. If someone subscribes to the basic box, I'll send an email with the goal of upselling them to the combo or ultimate box.
I explain the difference between the levels and try for a little FOMO by talking about what they will miss out on.
If you only offer one level of your subscription, this email is a great place to offer a past box. And if you haven't launched yet, offer other products from your shop.
After the two-email new subscriber flow, they move onto the general email list where they'll get nurtured through my weekly email.
3. Abandoned Cart Automation
This flow is so important! Everyone needs an abandoned cart flow. We have all been shopping online and gotten distracted before we finished making a purchase. Or we thought we had made a purchase but missed a step. Without an abandoned cart automation, you are leaving money on the table.
Again, Launch Your Box members will find the setup for this automation inside the training library.
Email #1
This email is triggered when someone puts items into their cart but leaves your website without making a purchase.
Use a subject line like, "We've saved your cart!"
Klaviyo allows you to set this us as a dynamic flow which means your email includes pictures of the items someone left in their shopping cart.
Include a simple, "Click here to complete your purchase." link or button and that's it!
Email #2
One or two days after you send the first email, if they still haven't completed the purchase, send another.
Use a subject line like, "Your cart is about to expire." or "This wants to go home with you!" Keep it fun and in your customer's voice.
The rest of the email is like the first - show them what's in their shopping cart and make it easy for them to complete the purchase.
Bonus - Abandoned Browse Automation
I want to tell you about one more email automation! The abandoned cart flow was triggered when someone put an item into their shopping cart and then left the website. The abandoned browse flow is triggered when someone browses on your site but does not make a purchase.
If you're using Klaviyo, you can set it up to allow you to see what someone is looking at even when they don't put it in their cart.
This is a simple two-email automation very similar to the abandoned cart flow. Klaviyo will pop in images of what they were looking at and you can remind them to go ahead and complete their purchase.
Let these email automations work for you. The truth is, if you do not have these three (or four) automations set up, you're leaving money on the table. Take a few hours to set these up one time and put them to work for you. Keep it simple and be ready to be amazed at the amount of revenue you'll generate from these email flows.
Learn from me:
Subscription Box Blueprint eBook: This $10 ebook covers logistics from product selection to packaging to shipping. Plus a 90-day launch plan and bonus 'Instant Scripts' for your social media.
Launch Your Box:

My complete training program that walks you step by step through how to start, launch, and grow your subscription box business.
Launch Your Box Podcast:

I share tons of practical tips and strategies to help you start, launch, and grow your subscription box business. You'll also hear from industry experts and current Launch Your Box members who are crushing it - get ready to get inspired!
Find me on social:
Are you ready for Launch Your Box? Our complete training program walks you step by step through how to start, launch, and grow your subscription box business. Join today!
Join Launch Your Box
Hear from Sarah each week!
Do you want weekly tips for starting, launching, and growing a subscription box? Subscribe to get our latest content by email.