What's Holding You Back from Launching Your Subscription Box?
Jul 23, 2023
Discover how serving your audience before you sell can lead to a successful subscription box business and a community of loyal, raving fans.
---
I see it inside my coaching membership Launch Your Box and my How to Start a Subscription Box public page. People who want to start a subscription box so badly, but haven't. People who have identified their ideal customer, who've planned exactly what they'll put in their box, but they haven't launched. Something is keeping them from taking their subscription box dream and turning it into reality.
I understand.
Being an entrepreneur is hard. And it's easy to let what I call entrepreneurial anxiety get in the way. It's that fear of failure or of being judged. It's those feelings of unworthiness.
Those fears and failures can be so loud sometimes. They can stop us in our tracks and make it seem impossible to take that next step.
First, it's important to understand that we all have those feelings. I've had them - many times. Entrepreneurs at all stages of business have these feelings. Those feelings are not shameful and they don't make you weak.
What's also important is not to let those fears and anxiety hold you back. Today I'm sharing five things you can start doing today that will help you move forward.
1. Let go of the fear of failure
We all fail. I've gotten really good at failure! And when you can realize that failure is going to happen and that it happens to everyone, you can start to move past that fear.
You can't take the next step in your business - or in your life - if you're afraid to fail.
I started getting over my fear of failure when I realized my fear of "What if I don't try?" was bigger. Ask yourself that question. If you don't try, will you be in the same place six months or a year from now? Still dreaming about launching your subscription box or taking your business to the next level?
Face your fear head-on and ask yourself, "If this fails, what happens?"
When I left my corporate job to start my business, I asked myself that question. And I realized that if I wasn't able to make my business a success, if it failed, I would simply get another job. I knew I had plenty of skills and would be able to find a job easily. That lessened the fear of failing.
So many new members of Launch Your Box are afraid to go LIVE on social media. They're afraid to fail. So they don't go LIVE. And it hurts them. It hurts their engagement with the followers they do have and keeps them from getting in front of new audiences.
What if you do a LIVE and it does fail? You can delete it. But what if you do a LIVE and it doesn't fail? If your followers get to learn more about you and your business? If they get to see your excitement and it turns into their excitement? If new people discover you because of your LIVE? What then?
For more on creating authentic connections with your audience, check out this blog post.
2. Task it out
When something is holding me back, it's often because it's a large project or task that feels overwhelming. It feels like it's going to take too much time, effort, or energy to accomplish. That feeling - the anxiety and overwhelm - makes me want to avoid that thing I need to get done.
I want you to write down one thing you've been avoiding. Maybe it's going LIVE on social media or figuring out a piece of tech. Maybe it's something in your life like organizing your closet or getting healthier.
Instead of feeling overwhelmed and avoiding it, try tasking it out.
Just grab a notebook and break that big thing you need to do into a series of small tasks. Once you see this big thing broken into small pieces, those feelings of overwhelm will lessen and you'll be ready to tackle the first task on the list!
3. Trust in yourself
We don't trust ourselves enough. It can be so easy to listen to that little voice inside that tells you you're not smart enough, talented enough, or brave enough.
But you are. You have skills, talents, and abilities. There's something inside you that is pulling at you to start a subscription box.
Instead of listening to the doubts, take positive action.
Grab a piece of paper and make a list of three things you accomplished in the last year that you're proud of.
Use this list to remind yourself - as often as you need to - that you CAN do this. You are smart enough, talented enough, and worthy of making this dream a reality!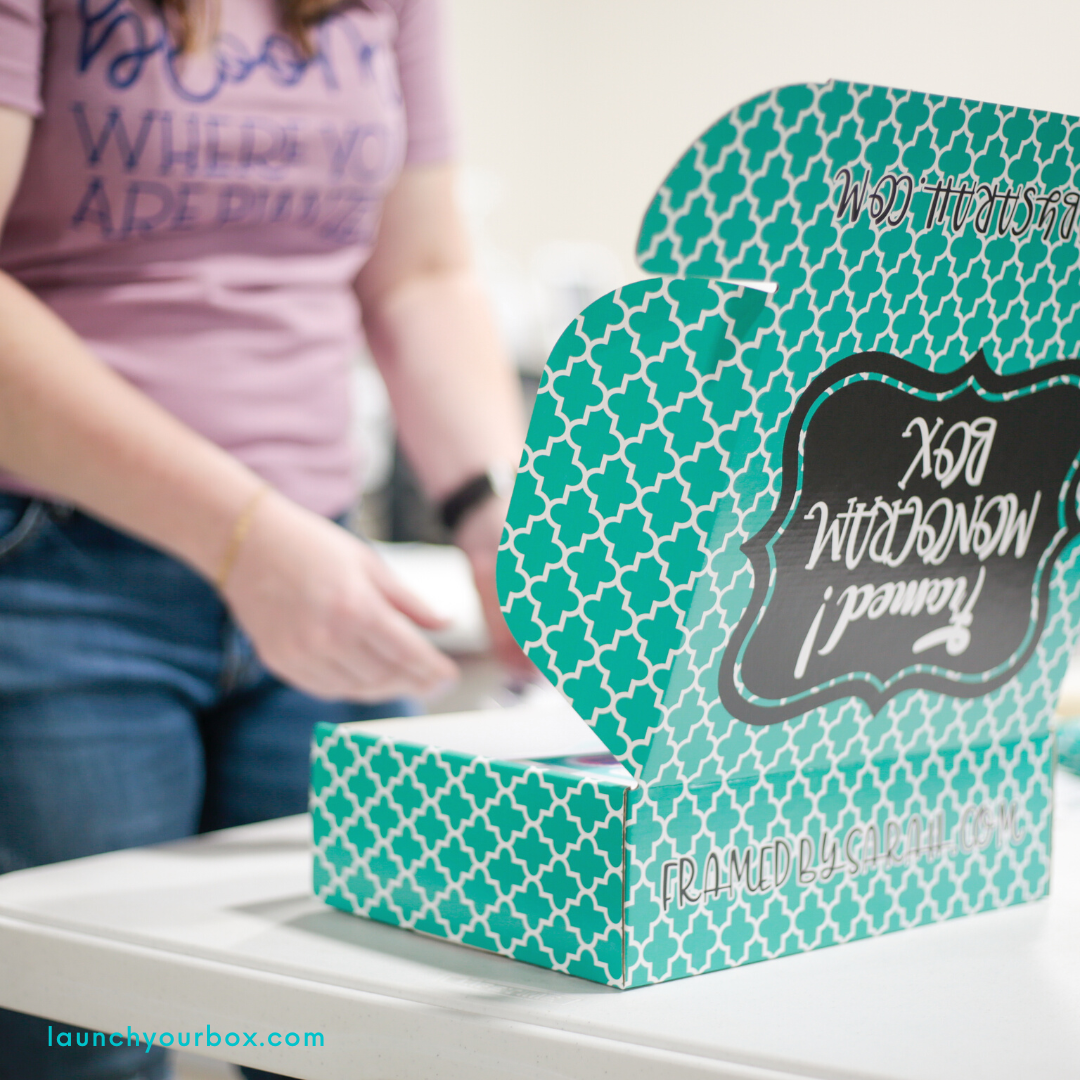 4

. Set a timer
It can be so easy to get distracted. You may start off with the best intentions to get something done. Then you get distracted or someone asks you a question or you remember something else that needs to be done and… you don't make progress on the thing you set out to do.
Set a timer for 30 or 60 minutes and focus on tackling one thing you've been avoiding. Put your phone in a drawer, close the door, and let people around you know you'll be doing focused work for that time.
5. Remember self-care isn't selfish
You spend so much time taking care of everyone else's needs. When you do that long enough, you end up with nothing left for yourself. Giving all of yourself to everyone else doesn't serve you.
As business owners, we all have seasons of hustle. We also need to have seasons of rest. If you don't give yourself time and space to rest, you'll burn out.
Take some time for yourself. It's important. Even if it's only 20 minutes - get outside and take a walk or take a hot, bubble bath (two of my favorites). Just take that time to get away, spend time with yourself, and breathe. It's important.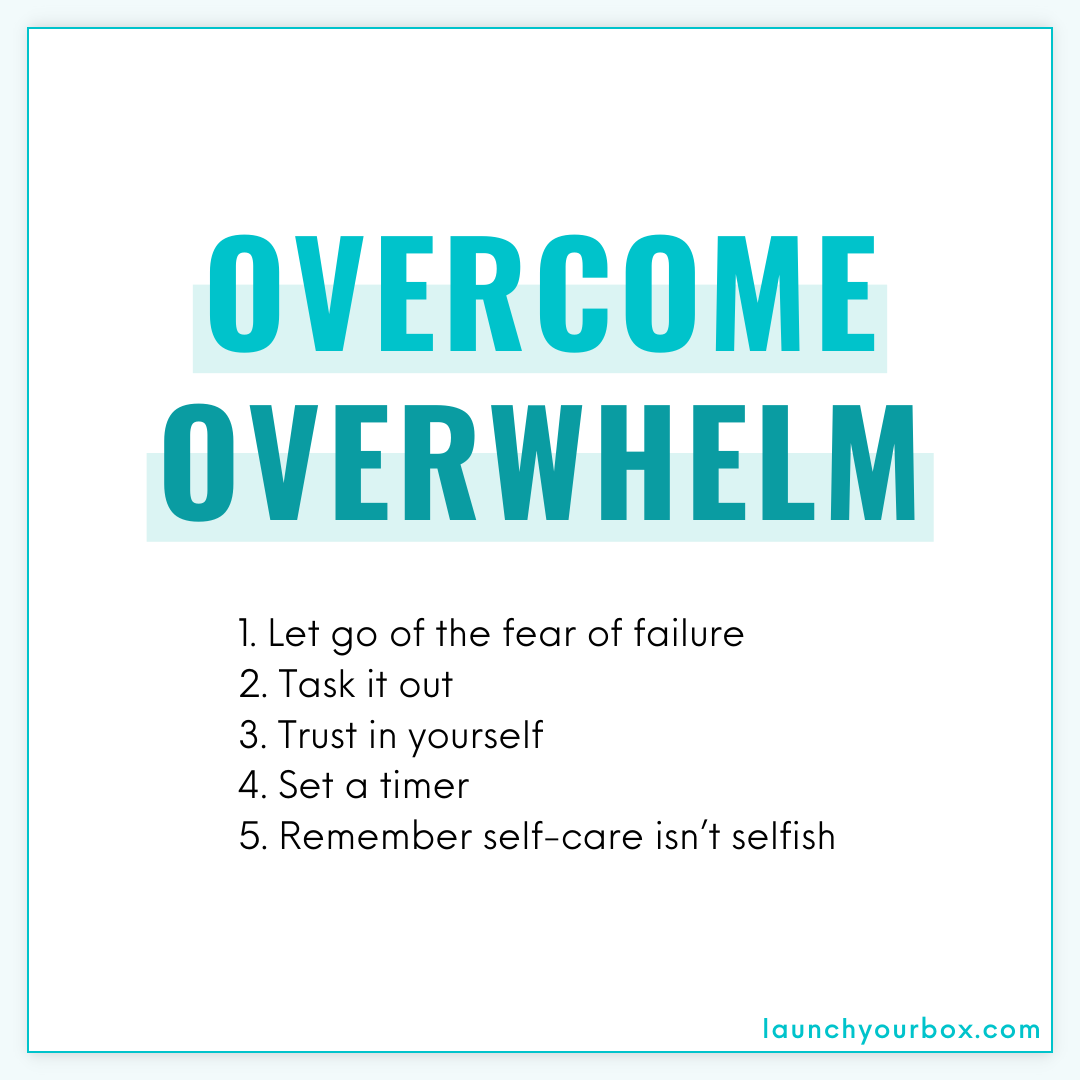 Being an entrepreneur is hard. You can't do it alone. You need a support system. Even if you are the only one working in your business, you need people around you to help you problem-solve, to support you, to cheer you on when things get tough and celebrate the wins with you - big and small.
You may have that support within your circle of family and friends. If you don't, find those people to walk alongside you on this entrepreneurial journey.
Launch Your Box is the source of so much support and encouragement. I LOVE to watch these subscription box owners at all levels of business success be there for each other. Having people in your life who "get it" because they're doing it, too is invaluable.
Learn from me:
Subscription Box Blueprint eBook: This $10 ebook covers logistics from product selection to packaging to shipping. Plus a 90-day launch plan and bonus 'Instant Scripts' for your social media.
Launch Your Box:

My complete training program that walks you step by step through how to start, launch, and grow your subscription box business.
Launch Your Box Podcast:

I share tons of practical tips and strategies to help you start, launch, and grow your subscription box business. You'll also hear from industry experts and current Launch Your Box members who are crushing it - get ready to get inspired!
Find me on social:
Are you ready for Launch Your Box? Our complete training program walks you step by step through how to start, launch, and grow your subscription box business. Join today!
Join Launch Your Box
Hear from Sarah each week!
Do you want weekly tips for starting, launching, and growing a subscription box? Subscribe to get our latest content by email.