From 0 to 500 Subscribers on the First Launch with Art Shattered | EP 127
Jul 19, 2023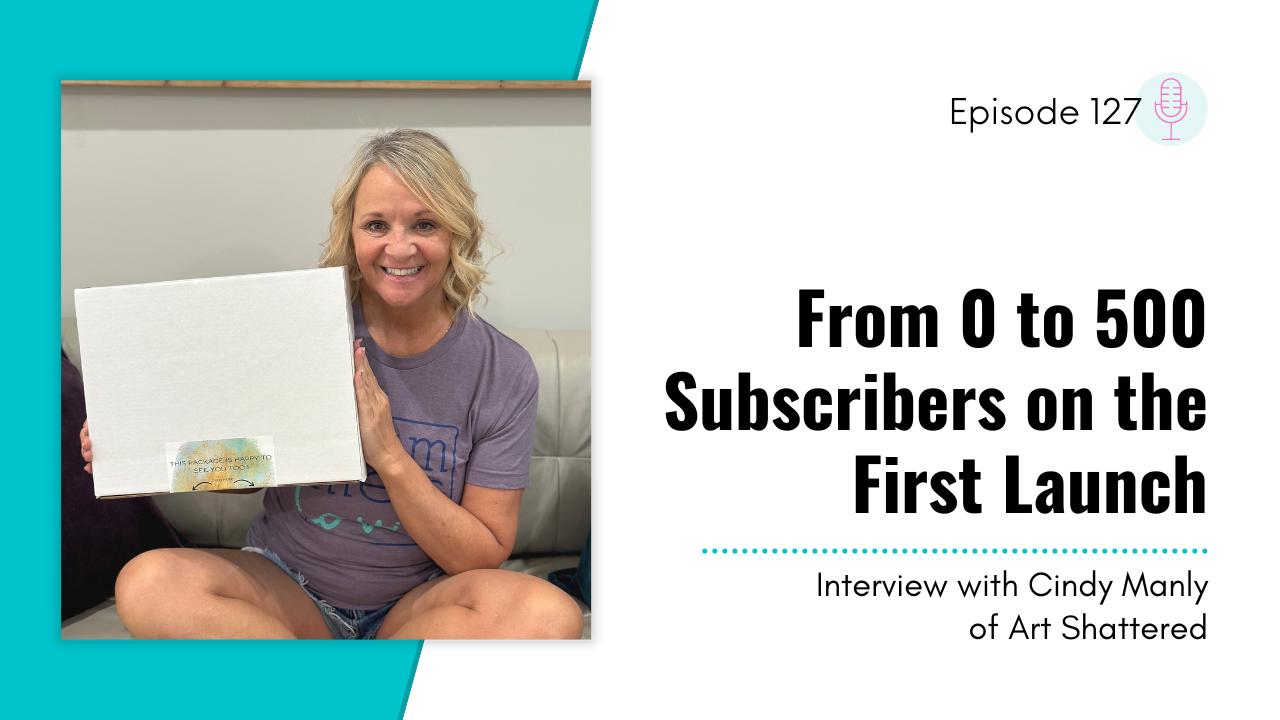 Subscribe: SarahsPodcast.com | Apple Podcast | Spotify | IHeartRadio | Stitcher
I'm excited to bring you this interview with my good friend Cindy Manly of Art Shattered. Cindy has a successful membership with over 1200 members and has been selling one-time art supply kits for the past few years. If you've been selling one-time boxes and are wondering if a subscription is for you, you're going to want to hear Cindy's story!
Cindy is an artist who specializes in glass and resin art. She makes beautiful, unique pieces of 3-D art that her followers LOVE. She also teaches her followers how to create their own art through her online membership. Cindy started her membership in 2018 and now has over 1200 members.
When some of Cindy's members started asking where to get the supplies they needed to create the pieces she was teaching - and others mentioned they were having a hard time finding the right supplies - she started selling one-off kits. Every time she offered up a kit for sale, she sold out. When she offered kits during her membership pre-launch, she sold 800 full kits and 500 partial kits.
Cindy and I have been friends for several years and I've been telling her almost that long that she needed to start a subscription box. She resisted the idea for a long time. But after selling 1300 kits during her pre-launch, she was convinced.
Armed with the launch plan she learned inside Launch Your Box and as a member of my Mastermind and backed by her audience of raving fans, Cindy launched her subscription box in June.
The result? She sold out of all 500 available spots in her quarterly subscription! And she used four strategies to do it.
Urgency - Cindy opened the subscription only to her online membership for 48 hours.

Waitlist - Cindy then opened up to members of the waitlist she'd been growing for three weeks leading up to the launch.

Early Bird Bonus

Engaging her audience - on her last LIVE, Cindy added names on post-it notes to her wall of subscribers.
Cindy originally wanted to only plan for 200 boxes, but I convinced her she could absolutely do more. And she did! She's also an absolute genius who packed her subscription boxes ahead of time and had them ready to ship BEFORE she launched! That meant when she was exhausted from her launch - and if you do it right, you will be exhausted - Cindy headed straight to the beach!
500 subscribers means additional financial security for Cindy, the satisfaction of knowing she is serving her loyal audience in yet another way, and steady employment for her team. I can't wait to watch Cindy's subscription box continue to grow.
Join me for this episode as Cindy walks us through her journey of moving from offering one-time boxes to launching a subscription box and welcoming 500 new subscribers.
Find and follow Cindy:
Learn from me:
Subscription Box Blueprint eBook: This $10 ebook covers logistics from product selection to packaging to shipping. Plus a 90-day launch plan and bonus 'Instant Scripts' for your social media.
Launch Your Box:

My complete training program that walks you step by step through how to start, launch, and grow your subscription box business.
Launch Your Box Podcast:

I share tons of practical tips and strategies to help you start, launch, and grow your subscription box business. You'll also hear from industry experts and current Launch Your Box members who are crushing it - get ready to get inspired!
Find me on social:
Are you ready for Launch Your Box? Our complete training program walks you step by step through how to start, launch, and grow your subscription box business. Join today!
Join Launch Your Box
Hear from Sarah each week!
Do you want weekly tips for starting, launching, and growing a subscription box? Subscribe to get our latest content by email.