5 Ways to Do a Monthly Unboxing - Every Month | EP 125
Jul 05, 2023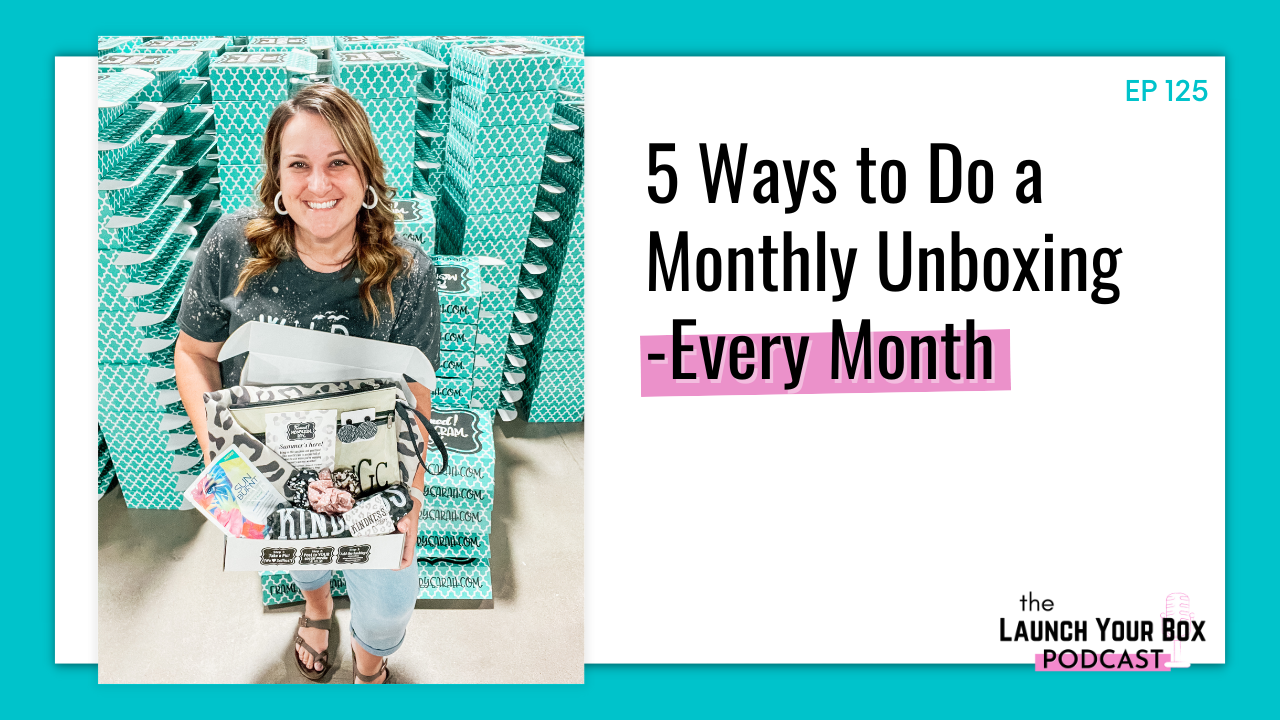 Subscribe: SarahsPodcast.com | Apple Podcast | Spotify | IHeartRadio | Stitcher
How many different ways do you do an unboxing for your subscription box every month? Would it surprise you to learn there are FIVE different ways you can do an unboxing… every month? My box opening checklist makes it easy!
Building connections. Creating excitement and FOMO. Growing your waitlist. Gaining new subscribers. There are so many reasons you need to make a monthly unboxing part of your subscription box marketing strategy.
You know the why, let's talk about the how. How can you do a monthly unboxing FIVE different ways every month?
Simply follow this checklist.
Live Unboxing

- this is a MUST. Turn on the camera, invite your followers and subscribers, and take them through the box. Don't overcomplicate it:
Set the date

Set the stage

State your hook

Encourage engagement early

Tell the story of the box (your curation process)

Show each piece and how it ties to the next

Give the audience a call to action (subscribe, join the waitlist, grab one of the extra pieces)
Email Unboxing
- using the same content you just created for the LIVE.
Blog Unboxing
- turn the email unboxing into a blog post.
Short Video Unboxing
- while taking pictures for social media, the blog, and the email, shoot a boxing or unboxing video
Use on Reels, TikTok, YouTube Shorts, Pinterest, etc.
Story Slide Unboxing
- create three-five slides to use in picture stories.
If you're not currently doing a monthly unboxing, don't try to start doing all five. Instead, start with one or two - but the LIVE is a must do! If you are already doing a monthly LIVE unboxing, start layering in a couple more unboxings until you work your way up to doing all five. It's not about being overwhelmed, it's about making progress.
And when you do these monthly unboxings, I have three tips for you to keep in mind:
Always invite your subscribers - specifically to your LIVE unboxings.
It's a connection point.

They provide instant social proof.

They'll love to show up with you and share their excitement!
Always give a sneak peek of the next month's box.
Create excitement and anticipation.

Give subscribers a reason to show up to the LIVE.
Always have a call to action.
Join now.

Get on the waitlist.
Join me for this episode as I walk you through five ways you can do a monthly unboxing - and connect with your audience - every month.
Learn from me:
Subscription Box Blueprint eBook: This $10 ebook covers logistics from product selection to packaging to shipping. Plus a 90-day launch plan and bonus 'Instant Scripts' for your social media.
Launch Your Box:

My complete training program that walks you step by step through how to start, launch, and grow your subscription box business.
Launch Your Box Podcast:

I share tons of practical tips and strategies to help you start, launch, and grow your subscription box business. You'll also hear from industry experts and current Launch Your Box members who are crushing it - get ready to get inspired!
Find me on social:
Are you ready for Launch Your Box? Our complete training program walks you step by step through how to start, launch, and grow your subscription box business. Join today!
Join Launch Your Box
Hear from Sarah each week!
Do you want weekly tips for starting, launching, and growing a subscription box? Subscribe to get our latest content by email.