Launch Your Subscription on Subbly
Sep 17, 2023
Discover how easy it can be to launch your subscription box on Subbly.
* This post contains affiliate/referral links. I could make a commission at no charge to you if you purchase my recommended products. Please read my disclosure and privacy policy HERE.
---
You've identified your ideal customer. You've curated your first six months' worth of boxes (if you haven't, take my FREE 6 in 60 Workshop). You're building your audience every day, showing up consistently on social media and via email. You're going LIVE and connecting with your audience, even when it scares you! And you're figuring out the tech. Even when it scares you.
There are 4 Tech Solutions You Need to Start a Subscription Box Business. It starts with a website. A professional-looking website will support your business for the long run. Because that's why we're here. To build thriving, sustainable subscription box businesses.
Inside Launch Your Box, we answer a LOT of questions about which website platform to choose. And there are a number of platforms that work really well for selling subscription boxes. One of those is Subbly.
Our team has gotten to know the team at Subbly over the past year and we have been so impressed not only with Subbly itself but with their commitment to providing outstanding customer support. I know how important customer support is to me when I'm trying to learn new tech and I want you to feel supported, too.
Earlier this year, our team decided to try Subbly out with one of our subscriptions. Read this blog post for more about our experience with setting up Subbly.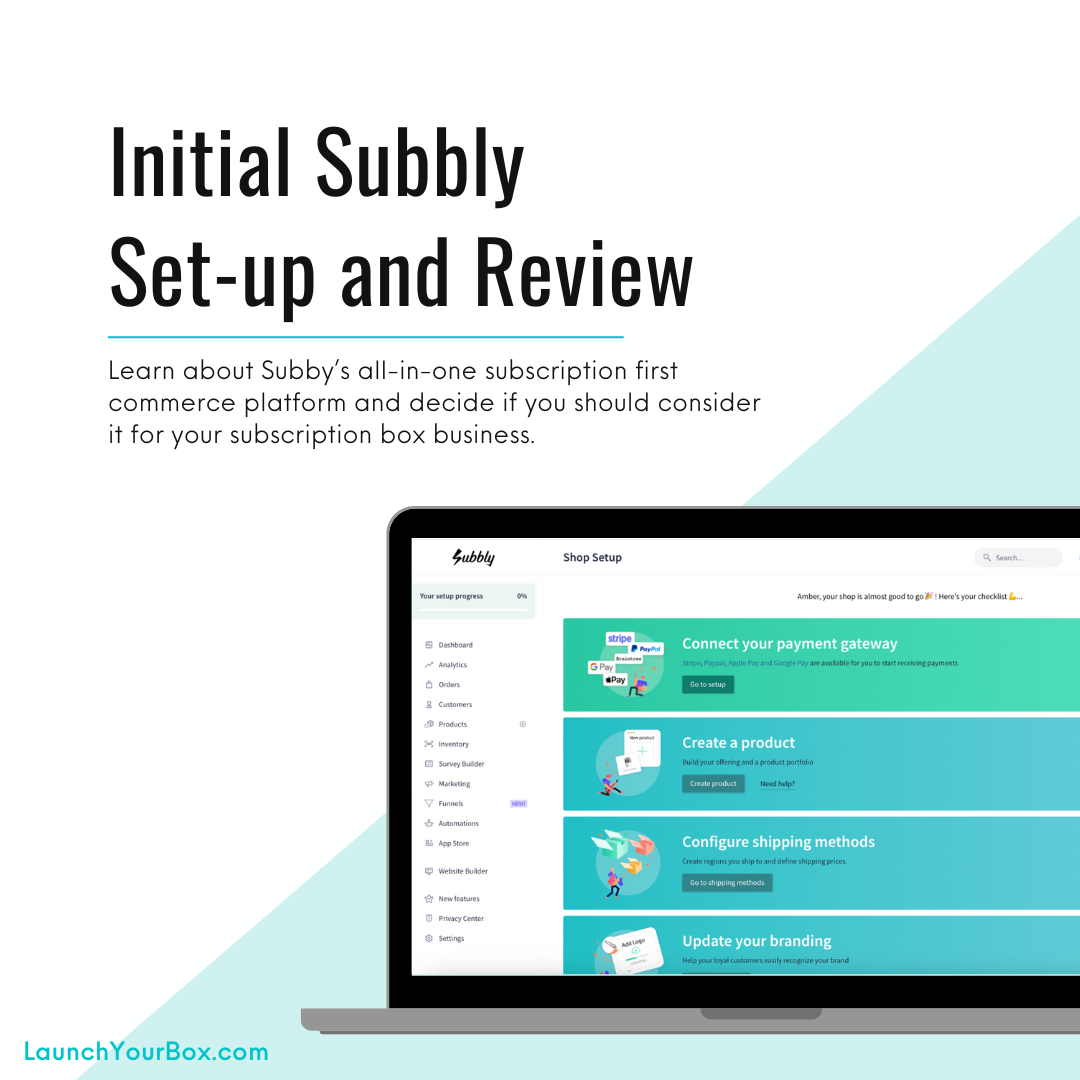 Today I'm going take you a little bit deeper with Subbly, tell you more about what makes it so easy to use, and how it can help you get ready to launch your subscription box.
What makes Subbly so easy to use?
In their own words, Subbly is "an all-in-one subscription-first commerce platform." One of the main differences between Subbly and other popular platforms like Shopify or WooCommerce is that Subbly doesn't require additional plug-ins or apps to perform all the functions needed to get your site up and running.
Subbly is a great choice for new subscription box owners. It was designed with a strong focus on being user-friendly.
Subbly's benefits to new subscription box owners include:
Intuitive interface

- avoid overwhelm, even if you're not tech savvy, with Subbly's easy-to-navigate platform.

Customizable templates

- no need to start from scratch. Start with templates, tailor them to match your brand identity, and end up with a professional-looking website for your subscription box business.

Payment processing

- handling payments is simple with Subbly's built-in payment processing.

Subscription management

- easily set up and manage different subscription levels, variations, and billing options.

Product management

- add and manage products with ease.

Analytics and reporting

- track subscriber growth, revenue, and more with Subbly's reporting tools.

Customer support

- from Subbly University to an online community and a team of Subbly experts available 24/7, you'll get the help you need when you need it.
Subbly simplifies the process of starting and managing your subscription box business. This frees you up to focus on what will move your business forward - providing an outstanding experience for your subscribers.
From start to launch with Subbly
We've talked about how Subbly makes it easy to set up and manage your subscription box business. Let's walk through the steps.
Connect a domain to your Subbly website.

Connect your payment gateway - you'll be ready to accept payments via Stripe, Paypal, Apple Pay, and Google Pay.

Configure your shipping methods - create regions to ship to and define shipping prices.

Make it "yours" - update your site with your branding.

Complete your company information.

Create a product - build your subscription box offering.

Create your website - build your website from scratch or start with one of Subbly's 50+ free templates.

Get ready to welcome your first subscriber.
Are you ready to choose a website platform for your subscription box business? You can take Subby for a test drive with their FREE 14-day trial. Get in there, play around, and discover for yourself just how easy it is to get your website up and running.
Learn from me:
Subscription Box Blueprint eBook: This $10 ebook covers logistics from product selection to packaging to shipping. Plus a 90-day launch plan and bonus 'Instant Scripts' for your social media.
Launch Your Box:

My complete training program that walks you step by step through how to start, launch, and grow your subscription box business.
Launch Your Box Podcast:

I share tons of practical tips and strategies to help you start, launch, and grow your subscription box business. You'll also hear from industry experts and current Launch Your Box members who are crushing it - get ready to get inspired!
Find me on social:
Are you ready for Launch Your Box? Our complete training program walks you step by step through how to start, launch, and grow your subscription box business. Join today!
Join Launch Your Box
Hear from Sarah each week!
Do you want weekly tips for starting, launching, and growing a subscription box? Subscribe to get our latest content by email.