Open VS Closed Subscription Model
Mar 26, 2023
Learn the difference between open and closed subscription models and which may be right for your subscription box business.
---
Starting a subscription box business is fun and exciting. You're getting to know your ideal customer, choosing fun packaging, and planning out exactly what you want to put inside your subscription box each month to provide an outstanding subscriber experience. (Need help with planning? Take my FREE 6 in 60 Workshop!)
Starting a subscription box also means making decisions - everything from choosing a subscription platform and an email CRM to deciding whether to run your subscription as an open or closed model.
In my business, I have both an open subscription - my T-Shirt Club - and a closed subscription - The Monogram Box™. There are good reasons for each subscription to be structured the way it is.
In today's post, I'm taking you through the differences between an open model and a closed model and the benefits and possible drawbacks of each.
What is an open subscription model?
An open subscription or open cart model simply means anyone can join your subscription at any time. The "cart" is always open.
I recommend an open subscription model for any new subscription. It takes time to get the word out about your offer and to generate interest and excitement. An open model allows someone to join your subscription whenever they discover it.
An open model means you don't have to plan a giant launch multiple times per year. Let's be honest. Launching takes a LOT of time and energy. Instead of formally launching, keeping your subscription open means consistently promoting your subscription and welcoming new members.
By running an open subscription model, you can plan for and manage a steady increase in subscribers instead of the large jump in numbers that typically comes with a major launch. This more gradual type of growth makes ordering products easier as well as managing fulfillment, packaging, and shipping.
An open subscription model is easy to promote. Develop and follow a consistent plan to market your open subscription with social media posts, emails, and ads.
Why I chose an open model for my t-shirt subscription.
As I mentioned, my T-Shirt Club is an open subscription model. This model works very well for this subscription in my business for a number of reasons.
I have quick access to the products I need. I have relationships with my t-shirt vendors and my local screen printer that allow me to manage the growth of my t-shirt subscription. If I have a couple hundred extra subscribers one month, I know I can get those shirts and fulfill those orders in about 48 hours.
This subscription grows consistently every month. One of the main reasons I suggest subscription box owners move from an open to a closed cart is when they hit a plateau. When the growth of their subscription stops or even starts to decline. That has never happened with my T-Shirt Club.
I generate excitement and bring in new subscribers by sharing the brand-new t-shirt design each month and inviting new people to launch.
I don't launch this subscription regularly because I haven't needed to. In 2022, I did one launch to get more exposure for the T-Shirt Club. That launch included a bonus t-shirt for every new and existing subscriber and it was a big hit!
The open model of my t-shirt subscription allows me to keep the marketing and fulfillment of that subscription on auto-pilot. We know what works and just rinse and repeat it each month.
What is a closed subscription model?
A closed cart subscription model means people can only join your subscription during certain periods of time (launches) or through a waitlist offer. This model works well for seasoned subscriptions or someone who already has a large following.
One benefit of a closed subscription model is your ability to create feelings of urgency and scarcity in your audience. They know that if they don't take action by the time your launch ends, they will miss out on their chance to become a subscriber.
A closed model also gives someone a "reason" to subscribe. We have all shopped online or in person and considered making a purchase only to decide to "come back later" for some reason. How many times does that "later" turn into "never?" A closed model tells your audience you need to decide now. If you want to join this amazing subscription, don't wait or you will lose your chance.
One of the biggest benefits of a closed model is your ability to plan and manage inventory levels. You know how many subscribers you have so you know how much product to order even months in advance. This becomes more important as your subscription grows and it becomes more challenging to source larger quantities of product.
If you've been running an open model and find your subscription hitting a plateau or even losing subscribers, moving to a closed cart is a great strategy. It gives members a reason to stay and again gives that feeling of urgency and scarcity to people in your audience who haven't subscribed yet.
Listen to episode 113 of the Launch Your Box Podcast to hear what happened when Whitney and Andrea of Cotton Chaos moved to a closed cart model. (Hint - it was part of the strategy that allowed them to 5X their subscriber numbers in one year.)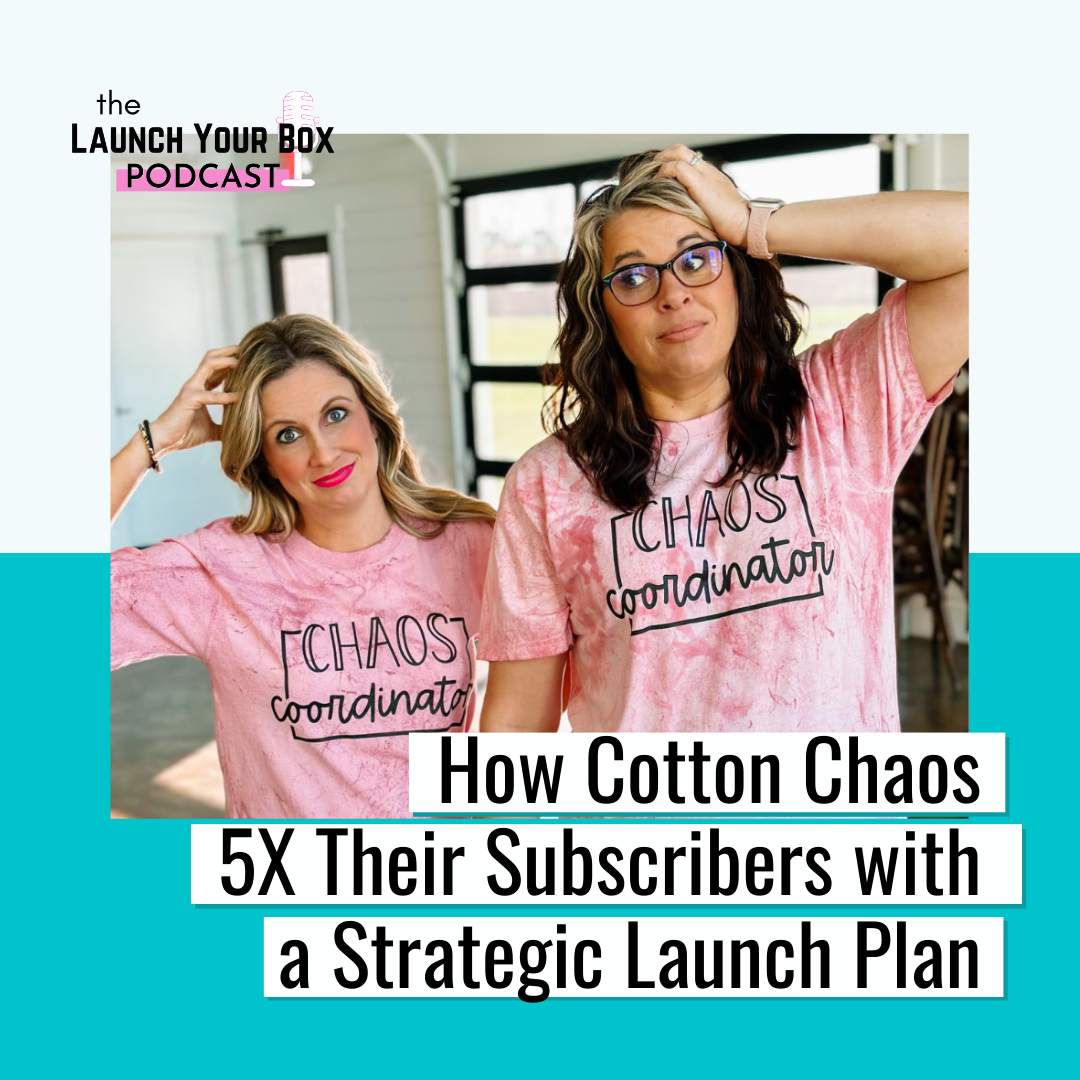 A closed model allows you to create a TON of FOMO - you're letting people know that your subscription isn't something they can have any time - they need to act now before it's too late.
With a closed model, you can focus on serving your audience instead of selling all the time. Of course, you'll be driving people to your waitlist, but the intense selling is reserved for launches.
A closed cart model does have its drawbacks. The biggest is that launching is just plain hard work. It takes a LOT of time and energy. And if you don't have a solid waitlist strategy allowing you to backfill any open spots due to churn, launching can feel like nothing more than filling a leaky bucket.
Why I chose a closed model for my Monogram Box™.
When I first launched my Monogram Box™, I ran it as an open subscription. After all, I was just getting started and I needed to get the word out about my amazing new box.
I stuck with an open subscription model for the first 15 months of the subscription. During that time my subscriber count continued to grow and grow. Until it didn't. Just before that 15-month mark, I realized I'd hit a plateau. Growth had slowed and then stopped. And even worse, my overall numbers were declining because I wasn't able to fill the spots of people who canceled.
I was sitting on a LOT of inventory because I had continued ordering based on planned growth. Planned growth that hadn't happened.
I needed to do something.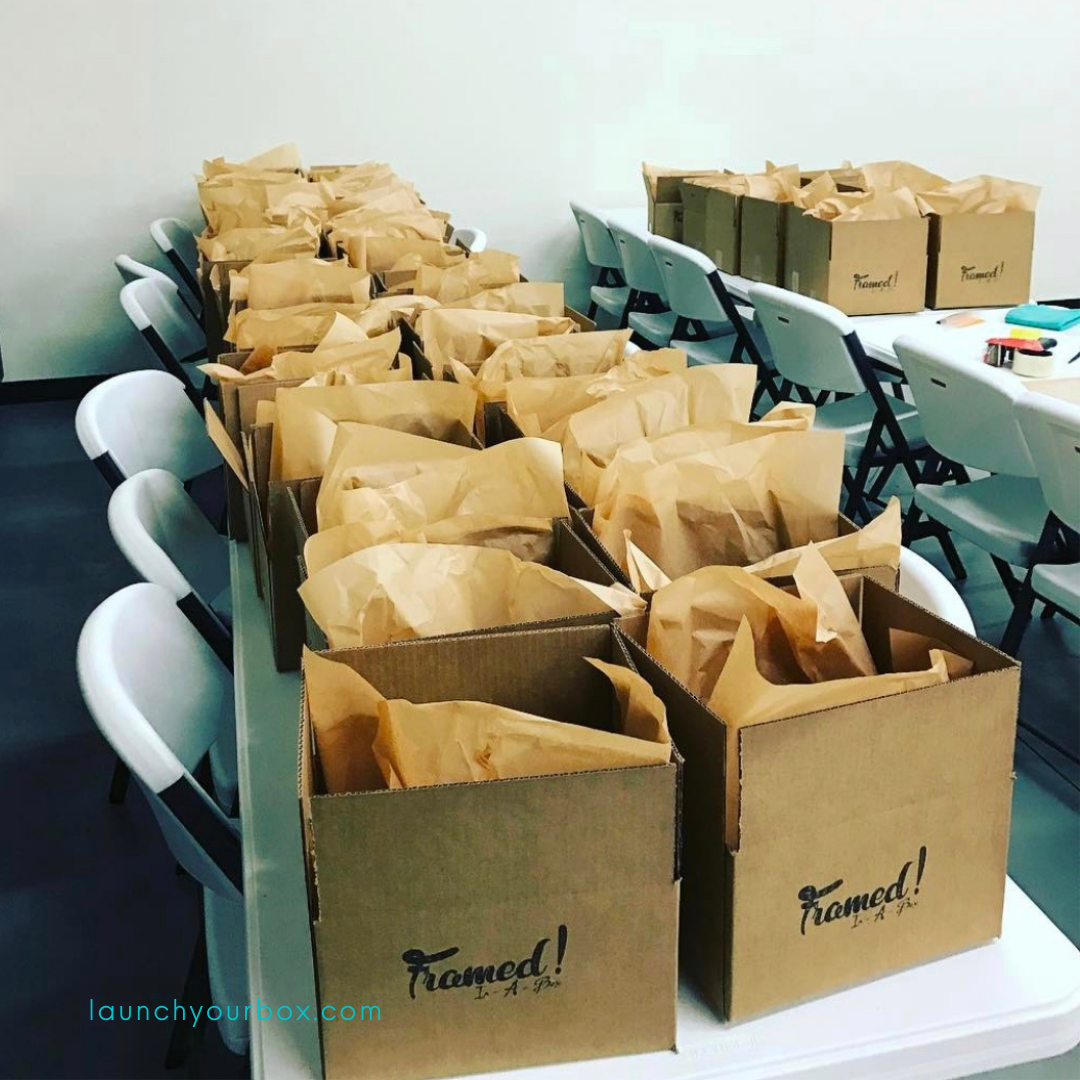 The answer was moving to a closed cart and going all in on a big launch. I created a TON of excitement, urgency, and FOMO for my audience. The result? In one launch I nearly doubled my number of subscribers!
After that launch, I just concentrated on driving people to my waitlist. And for the past two years, when people cancel, I've simply filled those empty spots from my waitlist.
For me, a closed model is right for my Monogram Box subscription because it allows me to know exactly how much product I need to order. It also gives me more control over my growth. And when the time is right, I'll plan a big launch.
Understanding the benefits and drawbacks of open and closed subscription models makes deciding which one is right for your subscription business easier. And remember, you can always change from one model to the other and back again as your subscription and your business change and grow.
Learn from me:
Subscription Box Blueprint eBook: This $10 ebook covers logistics from product selection to packaging to shipping. Plus a 90-day launch plan and bonus 'Instant Scripts' for your social media.
Launch Your Box:

My complete training program that walks you step by step through how to start, launch, and grow your subscription box business.
Launch Your Box Podcast:

I share tons of practical tips and strategies to help you start, launch, and grow your subscription box business. You'll also hear from industry experts and current Launch Your Box members who are crushing it - get ready to get inspired!
Find me on social:
Are you ready for Launch Your Box? Our complete training program walks you step by step through how to start, launch, and grow your subscription box business. Join today!
Join Launch Your Box
Hear from Sarah each week!
Do you want weekly tips for starting, launching, and growing a subscription box? Subscribe to get our latest content by email.