Getting Out of Your Own Way and Gaining 100 Subscribers | EP 129
Aug 02, 2023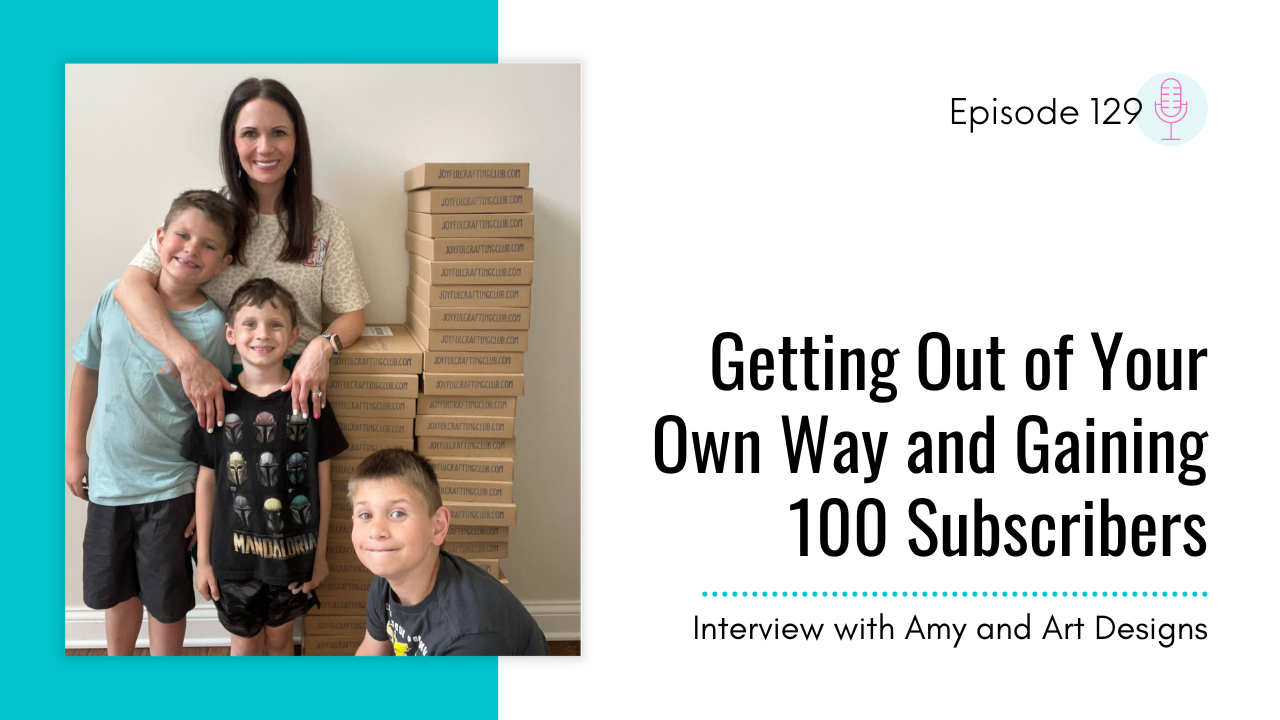 Subscribe: SarahsPodcast.com | Apple Podcast | Spotify | IHeartRadio | Stitcher
"You have to have one subscriber before you can have ten." - Amy Green
I'm excited to bring you this interview with a member of my Mastermind, Amy Green of Amy and Art. Amy's journey to subscription box success has many twists and turns, wins and losses, and lessons learned. By never giving up, being open to trying new things, and finding the right coach and community to support her, Amy found the courage to do it her way.
Amy Green is many things, among them a wife and special needs mom, a former teacher, and a lifelong entrepreneur. Amy's past businesses included a seriously successful food blog with 190,000 social media followers and a dog-walking business with more than 400 clients! She also partnered with her husband to start a construction business. Amy knows how to get things done.
Her oldest son's special needs meant Amy needed to build a business that worked for her family. She turned to her love of art for the answer. Armed with a new laser cutter and an idea, Amy started a business creating wood cut-outs and tier tray decor. She sold them on Etsy until she realized Etsy didn't let her do one very important thing - build her own email list. Amy had a large following from her days as a blogger. The problem? They weren't the right followers for her new business. So, Amy moved her business over to Shopify and got serious about list building.
When Amy decided to add a subscription box to her business, she found Launch Your Box and then also joined my Mastermind. She soaked in all the trainings and knew exactly how I teach my students to launch. There was only one problem… Amy simply didn't have the capacity to do a launch exactly the way I teach it. Her family life didn't allow for it.
After we talked it through, Amy decided to launch anyway - to do what she could. What matters is getting it out there. Don't wait for things to be perfect. Be willing to launch messy and then clean it up as you go. That's what Amy did. That first launch she focused on sending emails and posting on social media. She wasn't sure she could fit in going LIVE - but she did. Those LIVEs were short and sweet because that's what she could do, but they allowed her to connect with her audience.
That first launch - the one where Amy hoped for 10 subscribers - ended with 32 subscribers. The next time she launched, a few months later, Amy was able to put more of the launch pieces in place. That launch ended with 100 subscribers!
Not only does Amy provide her subscribers with a curated DIY tier-tray box every month, she also provides them with a community to belong to. Amy's community of subscribers allows them to feel seen, heard, and valued. It surprised Amy how much that means to them - and how much it has come to mean to her.
Amy got out of her own way, launched her subscription box, and continues to grow. She did this by:
Taking actionable, measurable steps

Finding support and accountability inside Launch Your Box & my Mastermind

Focusing on list-building and audience-building efforts

Collaborating with other subscription box owners
Join me for this episode and let Amy's story of doing things her way and building a true community of 100 subscribers inspire you to get out of your own way and take the next big step in your subscription box business journey.
Find and follow Amy:
Learn from me:
Subscription Box Blueprint eBook: This $10 ebook covers logistics from product selection to packaging to shipping. Plus a 90-day launch plan and bonus 'Instant Scripts' for your social media.
Launch Your Box:

My complete training program that walks you step by step through how to start, launch, and grow your subscription box business.
Launch Your Box Podcast:

I share tons of practical tips and strategies to help you start, launch, and grow your subscription box business. You'll also hear from industry experts and current Launch Your Box members who are crushing it - get ready to get inspired!
Find me on social:
Are you ready for Launch Your Box? Our complete training program walks you step by step through how to start, launch, and grow your subscription box business. Join today!
Join Launch Your Box
Hear from Sarah each week!
Do you want weekly tips for starting, launching, and growing a subscription box? Subscribe to get our latest content by email.