Sarah's Framework for a Live Unboxing Video | Episode 21
Jun 09, 2021
Subscribe: Apple Podcast | Spotify | Libsyn | Stitcher
One of my favorite things that I get to do with my subscription box each month is a live unboxing video. It's a super fun way to engage with your audience and show not only your subscribers but also potential subscribers what kind of products are coming in your box and why you personally selected them.
Live unboxing videos can be a great community event that everyone can be involved in through comments and questions.
* This post contains affiliate/referral links. I could make a commission at no charge to you if you purchase my recommended products. Please read my disclosure and privacy policy HERE.
If you've never done one before, hosting a live event can seem a little scary especially if you don't know where to even begin. In today's episode, I'm going to share with you a step-by-step process on how to create an unboxing live event and take out the uncertainty so you can focus on having fun!
Live Unboxing Video Prep Work
Set a Date for your Subscription Box Unboxing
By setting a firm time for your live session it lets your audience know when to expect the event and allows you to set reminders to help build interest.
I use a program called Stream Yard to pre-schedule my events through Facebook and help me stay in contact with my followers through reminders, which you can also use to show sneak peeks of what to expect to help generate excitement for the event.
Setting the Stage
Create an active background with good lighting for your video so that you're not just broadcasting from a blank room.
You can use stacks of your subscription boxes or strategically placed products. Really... whatever you can to make your video interesting. If you have a shirt or clothing item in your box, wear it!
Create a Hook
You should be able to tell your audience what the video is about and what to expect in the first 15 seconds of the live unboxing video. The purpose of your hook is to stop your audience from scrolling past the video and pique their interest.
Don't try to wing it! Spend a little time writing it out so that you're on point and the most effective you can be.
During the Live Unboxing Video
Encourage Engagement with your Audience
As soon as you hit that live button and deliver your hook, start interacting with your audience even if there's nobody in your chat. This is very important!
Most of your views will come from replays, so don't be afraid to ask some questions to the chat and have fun because that will help generate FOMO to get people to log on for the next live subscription box unboxing.
Tell the Story of Your Box
Give the inspiration behind your subscription box, the story of how you put all these things together, and why they all fit. Get your audience invested in the box before they see it.
Show off Your Ultimate Box with all the things!
If you have different levels of your subscription box, explain the differences between the boxes but lead with your ultimate box.
Going with your top-level box lets you show off what you're really capable of and gets people interested who might have gotten a lower-level box.
Call to Action
Choose one call to action at the end of your video. You should be asking your audience to subscribe, sign up for a waitlist, or direct them to a freebie.
Giving your audience something to do after the video keeps them engaged when they have the most goodwill toward you and your subscription box.
Conclude and Follow Up with Everyone
Remember to put your items back in the box and to thank your audience for participating in the video. Use this time to go over what you talked about and restate your call to action.
Your video should be at least 20 to 30 minutes long, but don't be afraid to go a little longer if you have good engagement.
Finally, as soon as you're finished, make sure you put the video into an email and prepare to send it to your mailing list. This way, you can snag some of your audience that didn't watch the live session and gives you another chance to push that call to action!
This is part of my email marketing strategy you can read more in THIS blog.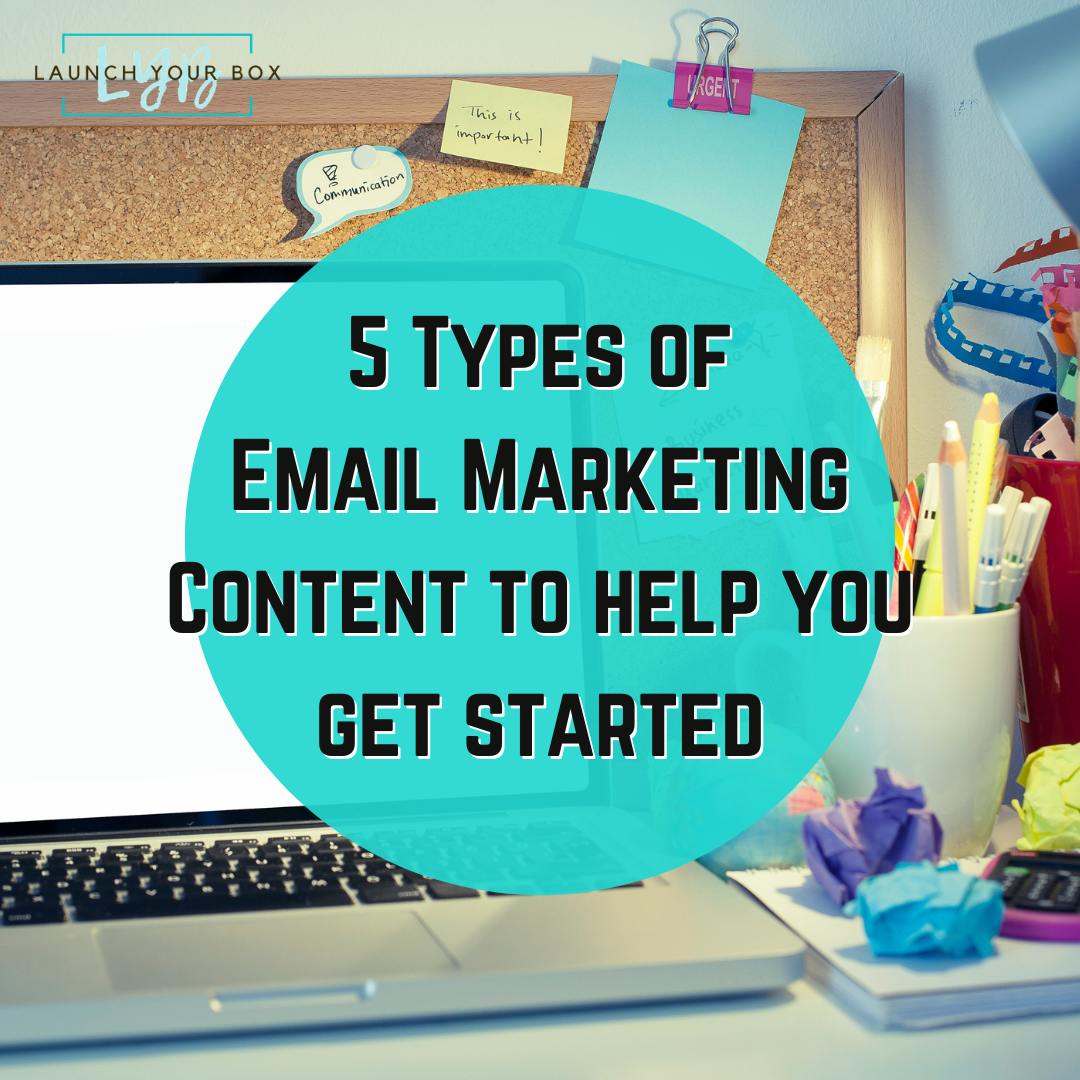 Follow these steps and have fun with it!
If you want to learn more about building a relationship with your subscribers with Lives, check out my blog about Creating Connections with Customers Online.
Remember, this is your chance to show off the box you've put so much time into and engage with your subscribers. This is what having a subscription box is all about, and the closer you are to your audience the better business you'll have.
Subscribe to the podcast on your favorite podcast platform and leave a 5-star rating and a review!
️
Sarah
Learn from me:
Subscription Box Blueprint eBook: This $10 ebook covers logistics from product selection to packaging to shipping. Plus a 90-day launch plan and bonus 'Instant Scripts' for your social media.
Launch Your Box: My complete training program that walks you step by step through how to start, launch, and grow your subscription box business.
Find me on social:
JOIN SARAH'S NEWSLETTER
Learn more about how to start and grow your own subscription box business! Subscribe to get our latest content by email.